RFE/RL: At the European Union summit help in Finland on October 20, European leaders once more pressed Russia to ratify the Energy Charter. Could Russia's failure to ratify this charter hamper its ambitions to increase oil and gas supplies to Europe?
Yelena Telegina: It cannot. The issue of the charter's ratification is not new. The charter was signed [in December 1991] in a completely different situation. Back then, it was the only basis for energy trade on the European continent. Today, conditions have changed and Russia considers -- in my opinion, correctly -- that all existing problems can be resolved in the framework of the World Trade Organization. The WTO is now broader than the charter. The charter is obsolete and there's no point in trying to reanimate an organization that has already fulfilled its functions. Of course, positive work is being carried out in the framework of the charter, for instance the attempt to create a common transit protocol. Russia strives to join the WTO, and I think that the WTO will help solve all existing contradictions.
RFE/RL: Russian President Vladimir Putin has not acceded to the European requests for more engagement in the oil sector. Do you see him changing his views any time in the future?
Telegina: Well, I wouldn't say that's the correct understanding of his words. The Russian oil industry is now very strong. Russia has money to develop most of [its resources through] Russian oil companies. But I think we always appreciate the participation of the Europeans. in the future, yes. I can't see any problem there.
As you know, the two most successful projects on the PSA [production-sharing-agreement] basis [are] the Kharyaga oil field in the north of Russia, and Sakhalin-2. There are a lot of Western companies. Russia participation. The projects are doing well. At the moment, Sakhalin-2 is experiencing some difficulties on the ecological side, but nevertheless it's a very good project.
RFE/RL: Europe has repeatedly expressed concern over Russia's reliability as a stable energy supplier. How would you describe energy ties between Russia and Europe today?
Telegina: Despite the current debate, energy relations between Russia and Europe continue to top economic cooperation. Europe's own resources are dwindling due to the exhaustion of its fields in the Northern Sea, and Europe needs energy. For Russia, Europe is the priority supply market. So it's hard to talk about serious possible problems here. Many issues are raised by politicians. Politicians tend to present this process from a different angle. But I nonetheless think that the interests of businesses and the interests of consumers will prevail over political disagreements.
RFE/RL: Do you feel the Europeans combine the energy debate with too many other factors, like human rights?
Telegina: Well, I don't think human rights is a key issue at the energy talks. But I think there are too many negative discussions, rather than joint implementation of the energy strategies. Because if we see one another's problems and we can help discuss them in a normal, not very critical way, it will help a lot. Otherwise, it brings a lot of arguments into the debate, which is not productive.
RFE/RL: Russia last year temporarily cut gas supplies to Ukraine following a row on gas prices. Its relations with Georgia have also soured over the past few weeks. Could the approaching winter see other energy crisis between Russia and former Soviet countries?
Telegina: I don't exclude that this situation may happen again temporarily. This simply shows that relations between Russia and former Soviet countries are not regulated. Today at the conference, a Ukrainian participant said that Ukraine was long addicted to "narcotically low prices." I think this wording is totally wrong, because it is precisely these low energy prices between former Soviet countries that helped these republics get back on their feet, develop their national economies, and Russian citizens paid the price for these former Soviet republics to be able to develop independently.
Of course, now, sudden attempts to increase prices look like political pressure. This is not quite right: there have to be lengthy negotiations; prices should be agreed on gradually. I think that Gazprom and our partners should display more flexibility and not be so harsh.
RFE/RL: There are concerns that Gazprom will not have enough gas to supply the Russian market, particularly electricity-generating companies. How serious is this problem and what can Russia do to remedy it?
Telegina: This is a serious problem. It was discussed last week by the government and the president. It is indeed a very acute problem for Russia because we need more gas to produce electricity, and we have many exports contracts with Western Europe that we must respect. The decision was made to develop exports and supply the Russian market with alternative energy resources such as atomic energy and coal. So from the point of view of energy security, Europe need not worry. Russia is ready to fulfill its obligations.
RFE/RL: Do you see Iran as being a factor in relations, insofar as Russia is keen to press ahead with the Bushehr nuclear reactor, supplying nuclear components to Iran? Do you see this as having any bearing on the energy supply sector?
Telegina: I think Russia supports the joint position of the other countries trying to take control on the issue of Iran. But the development of the energy sector in Iran.... I think it's quite a good point for bringing Iran to the international markets. It can happen, and I don't think that anything should stop Iran from being involved in the international market economy. But in a smooth way, of course.
RFE/RL: What is the Russian attitude to pricing, being outside OPEC? OPEC wants to cut supplies to keep up the prices. What is Russia's attitude to this?
Telegina: Russia, as one of the major producers, is very interested of course in keeping prices as high as possible for the moment. But we're also in constant talks with OPEC, and Russia participates in all the OPEC conferences. So generally, we support OPEC's attempts to fix prices, but we're not in the organization, so we just see how it goes.
Russia And Global Energy Security
Russia And Global Energy Security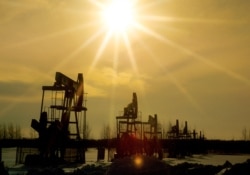 An oil field in Russia's Republic of Bashkortostan (TASS file photo)


ENERGY SECURITY is increasingly moving to the top of the EU's agenda in its dealings the outside world. A recent report identifies the European Union's main energy objectives as not just securing gas and oil deliveries from Russia, but also ensuring that it has reliable alternative sources, including in Central Asia. Nonetheless, EU officials say relations with Russia take center-stage in their thinking....(more)
RELATED ARTICLES
EU Maintains Codependent Energy Relationship With Russia
Turkmenistan: The Achilles' Heel Of European Energy Security
U.S. Official Urges Reforms In Energy-Producing Countries
ARCHIVE
A
complete archive
of RFE/RL's coverage of energy issues in the Caspian Sea region and Russia.