PRAGUE, June 27, 2006 (RFE/RL) -- The EU has taken what it sees as a significant step in diversifying its sources of energy. The European Commission agreed on June 26 with the energy ministers from six European nations to go ahead with a multibillion euro project for the construction of a pipeline to deliver natural gas from the Caspian basin to the heart of Europe.
The project, named Nabucco, envisages a 3,300-kilometer pipe delivering some 30 billion cubic meters of Caspian gas per year to a terminal in Austria, from where it would be distributed around Europe.
With its full annual capacity of some 30 billion cubic meters of gas, Nabucco will only be a "supplement" to supplies the EU receives from Russia, Norway, Algeria, and other parts of the world.
Energy Security A Priority
In announcing the agreement in Vienna, EU Energy Commissioner Andris Piebalgs said energy security is a priority for every foreign, finance, industry, and energy minister in the EU -- and that the Nabucco project "concretely contributes to our energy security."
Piebalgs's spokesman, Farran Tarradellis, told RFE/RL that the pipeline would link with other existing and planned pipelines to contribute to a broad flexibility of energy sources.
"We can import gas from the Caspian basin, that means basically Azerbaijan, but [the source area] can be extended to Kazakhstan if the trans-Caspian gas pipeline is built; we can import gas from the Middle East, from Iran, Iraq, [and] from Egypt through another pipeline which is going to be built from Egypt to Turkey; and we can even import gas from Russia [via Nabucco] through the Blue Stream pipeline," he said.
The prospect of Iran as a source of gas for Nabucco could be a politically sensitive issue, in that Iran is currently at odds with the international community over its nuclear program. The United States has been calling for possible UN sanctions on Tehran, which could ban the purchase of Iranian natural gas.
Instability An Issue
But Dusan Ondrejicka, a spokesman for the EU's European Investment Bank (EIB) -- the biggest envisaged investor in Nabucco -- notes the timescale of the project.
"This Nabucco project will be fully operational [only] in the second decade of the present century, and many people hope that by that time, many of these [political] issues will be solved," he said.
The EIB says it is willing to finance nearly one-third of the 4.8 billion euro project. Ondrejicka told RFE/RL that most of the rest of the funding will come from the private sector and the European Bank for Reconstruction and Development.
EU spokesman Tarradellis is also aware of the potential for political instability in the Caspian region.
For instance, last week Azerbaijani President Ilham Aliyev said he's prepared for war if necessary to restore control over the separatist ethnic Armenian-inhabited enclave of Nagorno-Karabakh. A renewal of military conflict in the southern Caucasus could lead to an interruption of oil supplies.
Multiple Energy Sources
But Tarradellis says flexibility of sources is the key to overcoming localized instability.
"It is not 'either or' -- I mean we are trying to develop a variety of supply routes and origins in order to fulfill the growing demand for gas we [in the EU] are going to have in the next 20 years," he added.
Tarradellis says that with its full annual capacity of some 30 billion cubic meters of gas, Nabucco will only be a "supplement" to supplies the EU receives from Russia, Norway, Algeria, and other parts of the world.
Agreement on the Nabucco project follows the shock which the EU experienced in March when a pricing dispute between Russia and Ukraine led to a gas cut-off which also reduced the flow of gas to some EU countries. Since then, Brussels has made energy-source diversity a priority.
What Would Sanctions Mean?
What Would Sanctions Mean?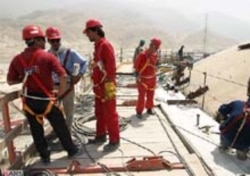 Economic sanctions could further undermine Iran's already shaky economy (Fars)


MOVING TOWARD SANCTIONS: If the United Nations Security Council imposes sanctions on Iran, domestic support for Iranian President Mahmud Ahmadinejad will wane, according to ALEX VATANKA, Eurasia editor for Jane's Information Group.
Vatanka told a February 24 RFE/RL briefing that "economic sanctions will hurt the average Iranian" and, consequently, many "will blame the ruling clerics" for making life difficult and "impairing the country's long term development."
Vatanka said sanctions would be a serious challenge to the Iranian government. If harsh economic sanctions were imposed, Iran's poorest population will be hurt the hardest -- and might react "as they did in the 1970s and protest in the streets." Sanctions on travel, Vatanka said, would hurt a many Iranians because "Iran is a nation of small traders" who depend on the ability to travel to earn an income. According to Vatanka, unemployment in Iran is estimated at 30 percent, "so small trading is essential to survival." Although current U.S. sanctions "haven't worked," he said, "Iranians fear an oil embargo." He stressed that "oil revenues are a major part of the economy, so it is critical to look at this sector."
Should negotiations with the European Union and the UN fail, Vatanka believes that Iran would follow a "North Korea model," since Ahmadinejad's base of support among the "Islamist militias" has been "urging withdrawal from the NPT [Nuclear Non-Proliferation Treaty]." The Iranian government's "tactic" so far, Vatanka said, is governed by the belief that "by shouting the loudest, you'll get concessions [from the West]."
LISTEN
Listen to the complete panel discussion (about 60 minutes):

Real Audio
Windows Media

THE COMPLETE STORY: RFE/RL's coverage of the controversy surrounding Iran's nuclear program.
CHRONOLOGY
An annotated timeline of Iran's nuclear program.