Ship Carrying First Caspian Oil From Pipeline Sets Sail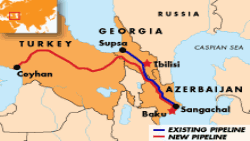 (RFE/RL) June 4, 2006 -- A British vessel carrying the first Caspian oil shipment from the new Baku-Tbilisi-Ceyhan pipeline set sail for Italy today.
Anatolia news agency reported that authorities began loading "British Hawtharne" with 600,000 barrels of crude at the Turkish Mediterranean oil terminal of Ceyhan on June 2.
Loading was completed late on June 3 and the tanker left for Italy's Savona port around noon today.
(AP)