LONDON, 15 February 2006 (RFE/RL) -- Caspian Sea oil is beginning to play an increasingly important role on international markets. And there is much more to its potential than many people may think, say experts at the International Petroleum Week symposium in London.
Gerald Rohan is a director for energy, utilities, and mining at PricewaterhouseCoopers in London.
Estimates put China's crude oil requirements in 2020 at nearly 5 million barrels a day, out of which Kazakhstan could supply 1 million barrels through its new, 1,000-kilometer long Atasu- Alashankou pipeline.
Sees Progress
"I worked on a project in Kazakhstan and one in Azerbaijan, so I have a lot of sentimental attachment to the region, and I know that these people have been working very hard to develop these," Rohan says. "And I am very pleased to see what's been going on both in Kazakhstan, in Tengiz, Chevroil, Kashagan, and the other developments that are there. And I am also thinking about what's going on with the projects along the coastline of Azerbaijan."
Rohan explains that the most important step in developing both the existing and new oilfields has been the need for new pipeline links to where the markets are and where they will be in the near future. He stresses that the old pipeline network from the Soviet era is not really well suited for the needs of the newly independent states.
"Twenty or 30 years ago, when the pipelines were built, they were built as a unified system for the Soviet Union," he said. "So, for example, in eastern Kazakhstan there were pipelines to Pavlodar coming from Siberia, and in western Kazakhstan there were pipelines built from Atyrau going up through Mangyshlak up through Samara; so it was not built for [the] self-sufficiency of each state."
Driven By The Market
Rohan says the energy market is showing the same aspects as any market. It is driven by where the consumers are and by the capacity for the investors to come to realistic and sensible investment decisions. And the governments of the region are beginning to understand how crucial the timing is, as well as new export routes such as the Baku-Tbilisi-Ceyhan (BTC) pipeline to Ceyhan that bypasses the Bosphorus Straits.
Recent statistics confirm growing global demand. Russia exported 204 million tons of oil in 2005 to non-CIS countries -- including transit volumes, that is an increase of 11.5 percent compared to the previous year. Azerbaijan exported 13.3 million tons of crude in 2005, a 50.3 percent rise over 2004. Turkmenistan produced 9.5 million tons of oil in 2005, nearly 1 percent less than the previous year. Kazakhstan produced 55.4 million tons of oil and 6.1 million tons of gas concentrate in 2005, an increase of 4 percent on 2004.
Other experts at the London symposium agree that, for example, Kazakhstan's energy prospects are rosy. Ian MacDonald is general director of the Caspian Pipeline Consortium. He says: "Kazakhstan has got a tremendous future. It's very good oil and gas reserves have been steadily developed and progressively developed. Today their production is in the region of 60 million tons. It's going to increase to, say 120, 150 million tons over the next 10 to 12 years, and these are not only big production increases but they're sustainable."
Similar to Rohan, however, MacDonald says the crucial problem of the region remains how to get the oil to foreign markets quicker and more efficiently in both the near and long terms. The Caspian Pipeline Consortium is the main export pipeline for Kazakh oil, but it has been experiencing problems with the Russian government, its major shareholder.
Kremlin Holding Things Up?
Moscow has been delaying vital decisions on expansion, which would benefit both Kazakhstan and Russia. It complains it has not been getting enough revenue from the running of the project and has demanded greater control over its decisions.
Despite earning some $645 million on taxes, along with the increase in new jobs, money spent on local infrastructure, and the benefit of providing an additional export route for Russian oil, Moscow's objections have thus far stalled the growth of Kazakh oil exports. Even since September -- when Russia's demands have been met by other shareholders -- Moscow has not changed its stance. And with the delay the costs of future expansion keep growing, MacDonald explains.
"You need to develop very large projects that require billions of dollars of investment," he says. "You require stable contracts and a stable political environment."
One enormous market is right next door: China with its fast-growing industrial development.
Estimates put China's crude oil requirements in 2020 at nearly 5 million barrels a day, out of which Kazakhstan could supply 1 million barrels through its new, 1,000-kilometer long Atasu-Alashankou pipeline. It runs from the Kumkol and Shymkent fields to a refinery just over the border in China. This first-ever pipeline from a CIS state to China can supply up to 400,000 barrels a day.
And with a link to the Kenkyiak fields closer to the Caspian Sea, the pipeline should be linked to all of Kazakhstan's major oil fields, MacDonald says: "It needs to be connected up within Kazakhstan, then it will [be] progressively expanded. And then I think the Chinese will probably want to build on to it themselves to take it deeper into the country."
Rohan concludes that all these developments confirm the Caspian countries now understand that reaching the world markets is the key to their own future.
"Whether it's cooperation with Transneft, or working with CPC, developing new pipelines like BTC or pipelines to China, you could see that investors are just looking for diversification, and the markets are reacting positively to this work," he says. "The infrastructure is the way to unlock this potential." Rohan says he believes it will be unlocked soon.
Central Asia Gas Pipelines
Central Asia Gas Pipelines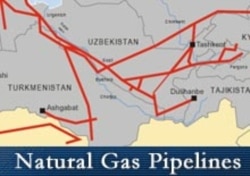 Click on the map for an enlarged image.

Russia's rising appetite for Central Asian gas is a direct result of the shifting fortunes of Gazprom, the state-run Russian company that controls lucrative exports. The company's total gas production has flatlined at around 550 billion cubic meters (bcm) a year. With major fields yielding less as they age, Gazprom has chosen to maintain its all-important gas balance by purchasing gas on the side -- from independent producers in Russia and from Russia's Central Asian neighbors -- instead of investing in the lengthy and costly development of untapped Arctic fields...(more)
See also: