ST. PETERSBURG, July 14, 2006 (RFE/RL) -- Putin has chosen energy security as the main theme of this year's summit of the Group of Eight industrialized nations, which he will chair as G8 president.
G8 leaders are expected to approve a draft statement aimed at encouraging investment and competition in the energy sphere.
Russia, the club's top energy exporter, has ambitious plans to expand oil and gas sales to Europe and gain a foothold in the Western energy industry.
Other G8 members are likely to reiterate calls on Russia to reform its huge gas sector. In particular, they want Russia to ratify an Energy Charter it signed in 1994 that would require it to open its gas-export-pipeline network to Charter signatories -- an idea Russia is resisting.
Nuke Discussions
As the director of the Heritage Foundation in Moscow, Yevgeny Volk, notes, nuclear nonproliferation will also stand high on the summit's agenda.
"Nonproliferation of nuclear weapons will be discussed, especially issues connected to Iran's nuclear program and North Korea's recent missile tests," Volk says.
Observers expect the United States to attempt to win the support of Russia, which opposes the U.S.-led drive to slap sanctions on Iran and North Korea for their respective weapons programs.
Foreign-policy issues, in particular the standoff between Israel and the new government formed by the Palestinian radical group Hamas, will take up much of the discussion time at the upcoming G8 summit.
While Western leaders have sought to isolate Hamas unless it renounces violence, Russia favors negotiations with the group and in March hosted Hamas leaders for talks in Moscow.
Frozen Conflicts
Washington has also said it intends to discuss the so-called frozen conflicts in Georgia and Moldova. But criticism of Moscow's continued support for separatist movements in these countries is likely to irritate Russia, which considers former Soviet states its traditional sphere of influence.
Western worries that Russia is drifting away from democracy under Putin could also yield a few prickly debates.
The United States has been particularly vocal in denouncing what many see as Putin's increasingly authoritarian tendencies. Vice President Dick Cheney recently accused Russia of backsliding on democracy and using its energy resources as tools to blackmail its neighbors, and Senator John McCain (Republican, Arizona) has called on world leaders to boycott the St. Petersburg summit.
Closed Door Discussions
In a sign that he is anticipating more criticism, Putin told Western journalists on July 12 that he was ready to listen to what he called "well-intentioned criticism" but that he would not allow anyone to pressure Russia out of alleged concern for Russian democracy.
Masha Lipman, a political analyst at the Carnegie Center in Moscow, predicts that concerns over Russia's democratic record will be raised only behind closed doors.
"A matter of importance for Russia is to what extent one can expect Russia's internal policy, the state of affairs with democracy and human rights, to be brought up," Lipman says. "Everything suggests that this will not be discussed in public. There are rumors and reports that [U.S.] President [George W.] Bush will raise this issue in private. But things that are not done in public do not have much significance."
Traditionally, economic issues do not figure prominently at G8 get-togethers. Yet this year's summit could see a breakthrough on Russia's longstanding bid to join the World Trade Organization.
Russian officials say a bilateral deal with the United States -- the last obstacle to Russia's membership bid being submitted to WTO states for approval -- could be clinched at the summit.
But should the much-awaited deal fall through, the summit will still represent a major coup for Putin, who has vowed to restore the clout once enjoyed by the Soviet Union.
The Heritage Foundation's Volk says that for the Kremlin, the St. Petersburg G8 summit seals Russia's resurgence as a key world player.
"I think prestige is the most important issue for Putin at this summit, the confirmation that Russia is a full-fledged G8 member, the acknowledgement that Russia has restored its position in the world," Volk says.
Russia's Democratic Development
Russia's Democratic Development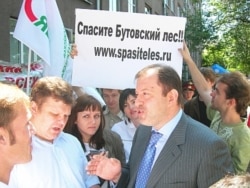 Demonstrators speak with local politicians in Butovo about the destruction of a local forest in July 2006 (RFE/RL)

IS RUSSIAN DEMOCRACY MANAGING? Russian President Vladimir Putin has said Western powers seek to pressure Russia under the pretext of concern over its democratic development. He has said Russia is ready to listen to "well-intentioned criticism," but will not allow anyone to interfere in its internal affairs. The Kremlin has been criticized for stifling political oppostion, increasing central control over the media, and cracking down on the work on nongovernmental organizations.
RELATED ARTICLES
Concerns Raised About Moscow Chairing Rights Committee
Using Racism Is A Time-Honored Kremlin Tool
Putin Comes Under Fire At Global Media Congress
Oligarch's Case A Sign Of The Times
'Letter Of 100' Warns That Putin Is Suppressing Democracy
A Hard-Line Agenda For Putin's Second Term
Book Says Putin's Russia Falls 'Between Democracy and Dictatorship'
NGOs Denounce Status Changes As Move To Curb Activities
Scrutiny Of Foreign Funds Hurts Democracy Programs
U.S. Official Says Russian NGO Law Part Of Antidemocratic Trend

SUBSCRIBE
For news and analysis on Russia by e-mail,
subscribe to "RFE/RL Russia Report."