Their host will be Austrian Chancellor Wolfgang Schuessel, whose country currently holds the EU's rotating presidency. Also present will be European Commission President Jose Manuel Barroso and EU High Representative for Common Foreign and Security Policy Javier Solana.
So Many Things To Do
The two sides will first go into a restricted meeting, meaning only the leaders will be present. There, Iran and other regional issues are expected to be discussed.
Then comes a plenary session, attended by a wider circle of officials and advisers. That session is due to concentrate on promoting peace, democracy, and human rights. In particular focus will be the Middle East, the Balkans, frozen conflicts, and Africa.
Then comes a session on fostering prosperity and opportunity, including energy security, followed by a working lunch with subjects like climate change and pandemics, including AIDS and bird flu. Not to mention security, counterterrorism, nonproliferation, and UN reform.
Looking On The Bright Side
But amid such wide-ranging subjects, one theme is expected to remain constant throughout the meetings. That is confirmations from both sides, U.S. and European, that relations are now good among the allies despite past periods of strain.
"The president has made clear that, in his words, America supports a strong Europe because we need a strong partner in advancing freedom in the world," U.S. national security adviser Stephen Hadley told reporters on June 15.
The Europeans have been equally upbeat ahead of the summit. European Commission spokeswoman Emma Udwin told RFE/RL on June 15 that the period of U.S.-European tensions, including over Iraq, is past.
"It is very clear that the difficult moments that followed the Iraq war are well behind us, and that there is now a very warm, constructive atmosphere between the EU and the U.S.," she said. "This summit will be an occasion to go through the very many subjects where we work very fruitfully together."
Change In Tone Of Relationship
Many analysts agree with these official assessments. Tim Williams of the Royal United Services Institute in London says much of the tension caused by Washington's and London's decision to unilaterally topple Iraqi leader Saddam Hussein has now given way to the need to work together to solve the Iranian nuclear crisis and to stabilize Iraq.
"There has been a change of tone in the second Bush administration, ever since it came into office, and this has now been reciprocated on the European side, so there are certainly warm relations there; the two sides have been side by side in dealing with Iran; [and] there are positive developments in Iraq," Williams notes.
Analyst Dana Allin of the International Institute for Strategic Studies in London also says both sides have worked hard to improve relations.
"[There has been] a year-and-a-half-long effort on both sides, on the American and the European side, to improve relations because in Bush's first term they both looked into the abyss of the end of Atlanticism and thought that was too scary," Allin says.
"That was the European case and, I think, in the American case it was just that the United States has been tremendously weakened over the past five years on a whole host of fronts so it is just obvious that [the Americans] need to repair relations with allies," Allin adds, but cautions that this does not mean that all the former strains have completely disappeared.
The Council of Europe and the European Parliament have launched investigations into European involvement in CIA renditions of suspected terrorists, sparking much criticism of how well Washington balances its war on terrorism with human rights concerns.
Following the summit, Bush will go to Budapest to commemorate on June 22 the 50th anniversary of the 1956 Hungarian Revolution.
The International Coalition In Iraq
The International Coalition In Iraq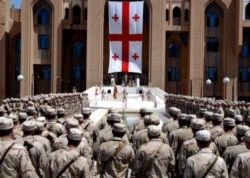 Georgian soldiers marking Georgian Independence Day in Baghdad on June 6 (epa)
COALITION MEMBERS: In addition to the United States, 28 countries are Multi-National Force-Iraq (MNF-I) contributors as of May 31, 2006: Albania, Armenia, Australia, Azerbaijan, Bosnia-Herzegovina, Bulgaria, the Czech Republic, Denmark, El Salvador, Estonia, Georgia, Italy, Japan, Kazakhstan, Latvia, Lithuania, Macedonia, Moldova, Mongolia, the Netherlands, Poland, Portugal, Romania, Singapore, Slovakia, South Korea, Ukraine, and the United Kingdom. Fiji is participating as part of the UN mission in Iraq. Hungary, Iceland, Slovenia, and Turkey are NATO countries supporting Iraqi stability operations but are not part of MNF-I.
NON-U.S. MILITARY PERSONNEL IN IRAQ: United Kingdom, 8,000 as of May 26, 2006; South Korea, 3,237 as of May 9, 2006; Italy, 2,900 as of April 27, 2006; Poland, 900 as of May 30, 2006; Australia, 900 as of March 28, 2006; Georgia, 900 as of March 24, 2006; Romania, 860 as of April 27, 2006; Japan, 600 as of May 30, 2006; Denmark, 530 as of May 23, 2006; All others, 1,140.
(Source: The Washington-based Brooking Institution's Iraq Index of June 15, 2006)


THE COMPLETE STORY: RFE/RL's complete coverage of events in Iraq and that country's ongoing transition.
RADIO FREE IRAQ: To visit the Arab-language website of RFE/RL's Radio Free Iraq, click here.