NATO Chief Says Alliance Could Improve Energy Security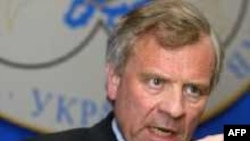 NATO Secretary-General Jaap de Hoop Scheffer (file photo) (AFP) BUCHAREST, November 16, 2006 (RFE/RL) -- NATO Secretary-General Jaap de Hoop Scheffer and Romania's President Traian Basescu today said that the Western military alliance would be able, if requested, to take up additional tasks, such as boosting energy security for member states.
De Hoop Scheffer, who met with Basescu in Bucharest, said the subject of energy security would be discussed at the next NATO Summit on November 28-29 in Riga, the capital of Latvia.
De Hoop Scheffer described "the free flow of energy" as "an important element in NATO's strategic concept" and said "I would like, very much, to see the heads of state and government in Riga making a declaration that NATO is going to look for this added value [in energy security discussions]."
Basescu has called for the resolution of the frozen post-Soviet conflicts in Georgia, Moldova and Azerbaijan, which he says pose a threat to the security of Europe's energy supplies, as many oil and gas pipelines pass through the area.