It was a painful blow, made worse by the fact that it came just days after Russia launched construction on a customized pipeline designed to carry gas directly to Georgia's breakaway region of South Ossetia.
Moscow says it is acting to ensure the security of South Ossetian energy supplies. But critics say the plan is unprofitable, illegal -- and deeply political.
Breaking Ground
The first section of the Dzaurikau-Tskhinvali pipeline was laid some 30 kilometers from the North Ossetian capital Vladikavkaz on October 27.
If all goes according to schedule, the planned 163-kilometer line will be ready to pipe Russian natural gas into South Ossetia just in time for winter 2007.
Boris Chochiyev, Tskhinvali's minister of special affairs, had nothing but praise for the Gazprom-led initiative.
"The project has been approved, construction work has been launched, and a ceremony was held to celebrate. Everything is going to be all right," Chochiyev said.
Notably absent from the celebrations was Georgia, whose view of Moscow has grown increasingly dim in the weeks since a spy scandal sparked a Kremlin clampdown on ethnic Georgians living in Russia.
Officials in Tbilisi were quick to criticize the pipeline as an overt political maneuver by Russia, which has long supported Tskhinvali.
Work on the Dzaurikau-Tskhinvali pipeline, in fact, began just ahead of South Ossetia's November 12 referendum upholding its commitment to independence from Georgia.
Ruslan Abashidze, Tbilisi's deputy conflict resolution minister, says the pipeline is an attempt by Russia to lay claim to what is officially Georgian territory.
"This fact points toward an open and obvious attempt by the Russian Federation to annex Georgia. It appears as though Russia is now directly declaring that it considers the territory of South Ossetia as an integral part of the Russian Federation," Abashidze said.
Georgian officials, moreover, say they received no formal notification of the pipeline plan from Russia, and were reduced to receiving some details of the project from the Russian press.
Legal Accusations
Georgia's Foreign Ministry has condemned the Russian move as a clear violation of international law, and has accused Moscow of treating South Ossetia like its own administrative territory.
Yevgeny Yasin is a former Russian economy minister who currently heads the Higher School of Economics in Moscow. He says both Tbilisi and Moscow are to blame for the recent hostilities between the two countries, but adds that it is the Kremlin that is clearly acting illegally in pursuing its cross-border pipeline.
"It [Russia] should have received approval, provided our government is serious about its own stance on the recognition of Georgia's territorial integrity," Yasin said. "According to this principle, South Ossetia and Abkhazia are on Georgian territory. If [Russia] builds the gas pipeline, it will take a step toward violating the principle of recognition of Georgia's territorial integrity -- a principle it has already accepted."
Georgians are also irritated by the fact that the pipeline has been publicly touted by Russia as a guarantor of South Ossetian energy security.
Tbilisi has energy security issues of its own. If Gazprom makes good on its threat to raise rates, Georgia will see its gas prices more than double from $110 to $230 per 1,000 cubic meters.
Temuraz Gochitashvili, a Georgian oil and gas specialist, says Moscow's threat is made all the more bitter by the fact that Tbilisi has never cut off energy supplies to South Ossetia despite its problems with Tskhinvali.
"In contrast to our northern neighbor, we have never used our pipeline, our infrastructure, or our energy, for political aims. And we do not intend to do so," Gochitashvili said.
Challenging Enviornment
The Dzaurikau-Tskhinvali pipeline, in addition to being controversial, is far from being a guaranteed moneymaker.
Crossing the Caucasus mountain range separating North and South Ossetia is only one of the logistical challenges.
And with virtually no industry in the South Ossetian region, most of the gas consumers will be domestic residents -- meaning virtually no profits.
Yasin says it's an expense Moscow is willing to swallow: "It may lose money, but there are political goals on which money can be spent. Of course, it will help reach political goals, but it's bad business. But we are not talking about the profitability of this business here -- the population is small, there are few consumers. It is a way of achieving the independence of South Ossetia from Georgian supplies."
(RFE/RL correspondent Claire Bigg contributed to this report.)
Russian Sanctions On Georgia
Russian Sanctions On Georgia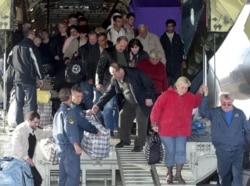 Georgian deportees arriving in Tbilisi on October 6 (epa)
RUSSIA DEPORTING GEORGIANS. Despite Georgia's release of four military officers accused of spying on October 2, Russia has continued its transport and postal blockade of Georgia, and has also deported hundreds of Georgians.... (more)
RELATED ARTICLES
Council Of Europe Head 'Concerned' About Reports Of Russian Sanctions
'No Time To Send Ambiguous Messages'
Ethnic Russians Feel Insulated From Tensions
Explaining West's Muted Response To Crisis
MORE: Coverage of the situation in Georgian from RFE/RL's Georgian Service and in Russian from RFE/RL's Russian Service.
ARCHIVE
RFE/RL's English-language coverage of
Georgia
and
Russia
.