A spokeswoman for the breakaway government, Irina Gagloyeva, said the incident occurred near the village of Kvais in the Dzhava region.

The deputy prime minister in the South Ossetian separatist government, Boris Chochiyev, told today RFE/RL's Georgian Service: "According to preliminary information, those were in fact four Pankisi Chechens. I will have more detailed information very soon."

The information could not be independently confirmed. Earlier, officials of the breakaway republic identified the nationalities of the four as Georgians.

After fighting in the early 1990s, South Ossetia broke away from Georgia. Since then the province has run its own affairs without international recognition.
Sketchy Details
Speaking in Tbilisi, Georgian Foreign Minister Gela Bezhuashvili denied the four gunmen were Georgian, calling the news "misinformation." Bezhuashvili also reiterated Georgia's "intention to solve problems peacefully."
However, South Ossetian Deputy Prime Minister Chochiyev was quoted by Reuters as saying that the men had crossed into the territory from Georgia's remote Pankisi Gorge, adding: "We know that Georgians recruit Chechens for terrorist acts in South Ossetia."
In the past, Russia has accused Georgia of harboring terrorists in the Pankisi Gorge.
The commander of the joint peacekeeping force in the South Ossetian conflict zone, Marat Kulakhmetov, confirmed there had been a fight with casualties. The peacekeeping force is made up of Ossetians, Russians, and Georgians. Kulakhmetov also spoke with RFE/RL's Georgian Service.
"According to my information there was a fight and there were casualties. I can't give you any more information, simply because it happened outside the conflict zone," Kulakhmetov said. "There are a few versions, a few pieces of information. Let's wait a little so we don't give false information to anybody."
Escalation
South Ossetia has recently seen an increase in tensions. Last month, unidentified assailants fired at a helicopter transporting Georgia's defense minister and three South Ossetians and one Georgian died in a shoot-out.
South Ossetia and Georgia's other breakaway province of Abkhazia lie at the root of the troubles between Tbilisi and Russia.
Georgia has repeatedly accused Russia of supporting separatists in both "frozen conflicts." Russia has denied the charges.
The foreign ministers of the two countries are due to meet on November 1-2 at a summit of the Organization of Black Sea Economic Cooperation in Moscow.
Moscow And Tbilisi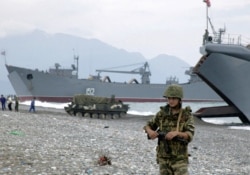 Russian military hardware being withdrawn from a Russian base in Batumi, Georgia, in August 2005 (TASS)

WHAT COMES NEXT? Although Russia is unlikely to push an aggressive military response to the current tensions with Georgia, it has a number of economic, political, and diplomatic options at its disposal. Already on October 1, Russian President Vladimir Putin summoned his inner circle to weigh Moscow's options... (more)
RELATED ARTICLES
Russia Says Georgia Sanctions Will Continue
Russia Suspends Transport, Postal Links To Georgia
EU Commissioner Urges Dialogue With Moscow
Ulterior Motives Seen Behind Escalation Of Spy Row
Georgia Turns Russians Over To OSCE
MORE: Coverage of the situation in Georgian from RFE/RL's Georgian Service and in Russian from RFE/RL's Russian Service.
ARCHIVE
RFE/RL's English-language coverage of
Georgia
and
Russia
.