Noghaideli said economic measures taken by Russia had cost Georgia 1.5 percent of its gross domestic product (GDP) and 17 percent of its export markets.
But despite this he said he expected the economy to grow by around 10 percent this year and inflation to remain in single digits.
In the past year, Russia has placed a number of economic sanctions on Georgia, including a ban on the export of Georgian wine to Russia. After a spy scandal broke out in September, Russia has clamped down on Georgian businesses and deported illegal immigrants back to Georgia.
Noghaideli said the latest moves by Russia "are part of a larger strategy to put pressure on many neighbors in our region, including most notably Moldova and Ukraine, whose products and market access have also been systematically limited."
Noghaideli also called on Russia to withdraw weapons from Georgia's breakaway South Ossetia region.
The Russian delegation did not respond to Georgia's complaints in the open session of the OSCE meeting.
Russian Pipeline Condemned
Meanwhile, Georgian parliament speaker Nino Burdjanadze today criticized Russia's alleged plan to build a pipeline to deliver natural gas to Georgia's breakaway province of South Ossetia without consulting the Georgian government.
Burdjanadze said at a parliament session that the international community should condemn the "illegal construction of a pipeline on our territory."
A ceremony to mark the start of the construction of the pipeline reportedly took place today in the neighboring Russian republic of North Ossetia, some 30 kilometers from Vladikavkaz. A delegation led by Eduard Kokoity, South Ossetia's separatist leader, was reportedly present.
South Ossetia and Georgia's other breakaway province, Abkhazia, have run their own affairs without international recognition since driving out Georgian government forces in bloody wars in the early 1990s, and are seeking independence or a union with Russia.
(with agency reports)
Russian Sanctions On Georgia
Russian Sanctions On Georgia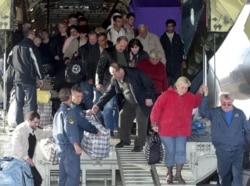 Georgian deportees arriving in Tbilisi on October 6 (epa)
RUSSIA DEPORTING GEORGIANS. Despite Georgia's release of four military officers accused of spying on October 2, Russia has continued its transport and postal blockade of Georgia, and has also deported hundreds of Georgians.... (more)
RELATED ARTICLES
Council Of Europe Head 'Concerned' About Reports Of Russian Sanctions
'No Time To Send Ambiguous Messages'
Ethnic Russians Feel Insulated From Tensions
Explaining West's Muted Response To Crisis
MORE: Coverage of the situation in Georgian from RFE/RL's Georgian Service and in Russian from RFE/RL's Russian Service.
ARCHIVE
RFE/RL's English-language coverage of
Georgia
and
Russia
.