RFE/RL:
Mr. Ambassador, the EU has an interest in developing cooperation with the South Caucasus countries. Are the expectations and interests of the Georgian government mostly relevant to the EU's interests and abilities?
Torben Holtze:
I think you have to say that the Georgian government and its people have made their commitment to adopt a system similar to a West European system. That was done more than 10 years ago. Even when you change the government, it is still the same goal to have a system similar to the European system and eventually be completely integrated into the EU. One day, you will become a member, whatever the EU is in five-10 years time.
If you are talking about differences of interests, a lot of this is very short-term. I think in general the end goal is the same. I think the way to achieve your goals -- that's where we have some differences. I would not say big differences.
RFE/RL:
As you know, the Georgian authorities, especially the speaker of the parliament of Georgia [Nino Burdjanadze] gave very high marks to the last European Parliament resolution [on Georgia]. How important is what the European Parliament says for the [European] Commission and the Council of the EU in making a final decision on a certain issue?
Holtze:
You said it great. One thing is the [European] Parliament. And the parliament, yes, it is important in the EU, but in the individual member states the government is basically elected by a parliament. This is not a case when it comes to the EU Parliament where you have the commissioners and you have the EU Council, which is the government in the member states, while the members of the parliament are elected on their own platform.
So, they can make decisions, resolutions. I am sure that the commission, the EU Presidency, the EU member states, they take note of that, but they are not obliged to follow up what is decided, for that kind of resolutions, there are things you have to do. But nevertheless, I think the resolution is important because it shows the wish, the understanding of the situation in Georgia. I think it is important.
RFE/RL:
Could you please, explain this paragraph of the resolution to me?
Holtze:
Which one?
RFE/RL:
The ninth one, which concerns the peacekeeping forces. The Georgian society was informed by the speaker of parliament [Burdjanadze] that this is a step and progress toward the replacement of Russian peacekeeping forces. Is that what the resolution says? It's quite confusing.
Holtze:
Yes. I think besides the resolution if you look at your progress in your conflicts, there has not been much progress for over the last even 10 years for that case. So, how to get out of this deadlock? It has to be changed, the format your government is talking about.
But of course, if you want to change it drastically, it is very difficult to get agreement from the other parties. Maybe if there is a slow, gradual change, even the other side can see the need to change. That could include some of the elements that you are seeing in this resolution. I can only agree [that] you should deploy police (in the end it should be a civilian police [force]) who will make sure there is law and order in the conflict zones and possibly less military forces.
I don't think anybody disagrees [with] what the [European] Parliament is saying. There is just a question -- now or after you come up with the efficient arrangement in a conflict zone after peacekeepers. The parliament is proposing this as an ultimate change after the whole thing but in the meantime to reach that goal you have to have your dialogues between Georgia and South Ossetia, Georgia and Abkhazia.
And as I said to one of your colleagues, I can only welcome [that Georgian President Mikheil] Saakashvili has offered to speak to [South Ossetian President Eduard] Kokoity. OK, he wants again some conditions [to be fulfilled]. I hope they'll meet and it does not matter whether they meet in Georgia or somewhere else. They have to talk to each other. Maybe the outcome is not positive, but they have to talk to each other to have [an] understanding. This meeting will be important for the Georgian public as well as for the South Ossetians to see what [the] differences are.
RFE/RL:
Let's go to Georgia-Russia relations. The Council of the EU expressed its "grave concern" over the tense relations between Georgia and Russia. What is beyond that? What else can the EU do, is it possible that Georgia-Russia relations will be on the agenda at the EU-Russia summit?
Holtze:
I'm quite sure it will be in the summit [agenda]. In most of the meetings it is discussed. But it's also discussed on high levels in bilateral discussions between the European leaders and [Russian President Vladimir] Putin. And also when our own commissioner, our own [EU] president are meeting with Russian leaders. Clearly they are very concerned about the developments. We would like to see normal development in the Caucasus and the two conflicts in Georgia [be] settled as soon as possible.
RFE/RL:
I will ask in a different way: does the EU have a common strategy toward Russia and is that strategy in harmony with the one toward the South Caucasus?
Holtze:
That's a good question. Russia is a big country. It is a neighbor of a number of the EU member states. They have different relations with Russia. So you have to combine these differences into what you call a common strategy. This is not an easy task.
It is clear, if you want to call this a strategy, that Russia is important, very much, in commercial but even in country terms. I don't have to say too much but energy -- we cannot ignore that Russia is our biggest supplier of oil and gas for years to come. That will affect our relations with Russia and it does affect [them]. You can see it. And some member states have different problems from other member states because of energy, commercial interest, etc. And this is not abnormal when it comes to the EU even in relations with the U.S. in various cases.
RFE/RL:
No one can ignore Russia, none of its neighbors, but when it comes to xenophobia, when it comes to human rights, when it comes to democracy, does the EU balance all of these with the energy issue?
Holtze:
During the last meeting, there were some EU heads of state who raised that question. If you just put aside that there is a difference between Russia and Georgia, it is not acceptable to treat people like Russians have treated Georgians. And fortunately there were some of the leaders who brought it up and asked Putin [about it] -- I don't know if he replied to that. It is important [that] it was brought up. And I have to say I was very happy, because one of them [EU leaders who brought it up] was a Danish prime minister, but we [Denmark] are in a good situation, we have enough gas and oil.
RFE/RL:
You know that due to the sanctions against Georgia, the Russian market is closed for Georgian goods. What should the Georgia businesses do to have the European market as a replacement, a partial replacement of the Russian market for their goods?
Holtze:
Well, the European market is not easy. I'm not going to pretend [it is]. But there are two things you have to have: quality. It has to be up to the European quality. Otherwise it's not allowed into the EU. Georgia is progressing in that respect.
But also marketing. It means you are reliable when you are the supplier of whatever it is. I still see agriculture, you should be able to export a lot to the European market. The quality is actually very good....
But it means you have to establish something you can rely on. One way to do it is to have producers' associations and you have some kind of control of quality. Also, you have to have a contract with a supermarket chain in Europe. It's not possible for a small or medium-size producer to export to Europe. It does not work like that.
It was one of the priorities when Saakashvili's government came to power. In my opinion, they acted very slowly, but I see very good signs over the last half-year. There is no reason why your agriculture exports should not be your biggest export.
Russian Sanctions On Georgia
Russian Sanctions On Georgia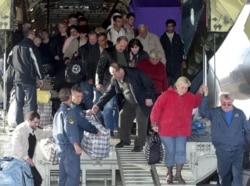 Georgian deportees arriving in Tbilisi on October 6 (epa)
RUSSIA DEPORTING GEORGIANS. Despite Georgia's release of four military officers accused of spying on October 2, Russia has continued its transport and postal blockade of Georgia, and has also deported hundreds of Georgians.... (more)
RELATED ARTICLES
Council Of Europe Head 'Concerned' About Reports Of Russian Sanctions
'No Time To Send Ambiguous Messages'
Ethnic Russians Feel Insulated From Tensions
Explaining West's Muted Response To Crisis
MORE: Coverage of the situation in Georgian from RFE/RL's Georgian Service and in Russian from RFE/RL's Russian Service.
ARCHIVE
RFE/RL's English-language coverage of
Georgia
and
Russia
.