From the EU's point of view, not all frozen conflicts are alike.
It continues to acknowledge Russia's key role in attempts at resolution. But when it comes to its own involvement, Brussels is clearly more enthusiastic about Moldova than it is about Georgia.
Moldova will share a border with the EU as of January 1, 2007, when Romania will join the bloc. As a result, Russia's involvement in Transdniester is keenly felt in Brussels.
EU Cautious On Georgia
The more distant Georgia, by contrast, could suffer more because of the EU's strategic need for Russian goodwill as an energy supplier and global partner.
France, Germany, Italy, Spain, and a number of other countries are unwilling to complicate their relations with Russia.
Evidence of this came in the EU's warning to Georgia today that the bloc's involvement in its two frozen conflicts -- Abkhazia and South Ossetia -- will remain limited.
Speaking in Strasbourg on behalf of the current EU presidency, Finnish Europe Minister Paula Lehtomaeki said Tbilisi wants Brussels to step up participation in peace talks with South Ossetia and Abkhazia, and to deploy EU peacekeepers to the region.
But those expectations, she said, are likely to prove "unrealistic."
"There are discussions going on currently within the EU about strengthening the EU's role, but Georgia's expectations may be unrealistically high," Lehtomaeki said. "The EU urges the Georgian leadership to have patience. Quick decisions, too-quick decisions with regard to the South Ossetian and Abkhazian peace processes must be avoided, as they could endanger the presence of the UN and the OSCE in the region."
This, Lehtomaeki warned, could result in a "vacuum."
EU member states have long debated whether to enhance their presence in Georgia -- possibly by sending border monitors, police missions, or even peacekeepers.
Reluctant To Step On Russia's Toes
But France, Germany, Italy, Spain, and a number of other countries are unwilling to complicate their relations with Russia. That reluctance has proved an insurmountable obstacle.
The same applies to Georgia's request for an EU observer role on the Joint Control Commission for South Ossetia.
Lehtomaeki and EU External Relations Commissioner Benita Ferrero-Waldner did balance their message to Georgia, reiterating their concerns about Russia's response to recent tensions between the two countries.
Ferrero-Waldner said some Russian measures may contravene international agreements.
"We are particularly also worried by the expulsion of large numbers of Georgians from Russian territory, which appears to be in direct contradiction to Russia's commitments under the European Convention on Human Rights and the 1975 Helsinki Final Act," Ferrero-Waldner said. "I raised this issue recently also with [Russian Foreign Minister Sergei] Lavrov."
But she also noted that Georgia shares responsibility for the current tensions with Russia.
She called on Georgian President Mikheil Saakashvili to "rebuild trust" with the breakaway regions and get relations with Russia back on a "diplomatic track."
Finnish Europe Minister Lehtomaeki said the EU's special representative for the South Caucasus, Peter Semneby, has been given a mandate to "facilitate" links between Moscow and Tbilisi.
Russian-Georgian relations will be on the agenda of an EU-Russia foreign ministers meeting on November 3, and at the EU-Russia summit on November 24.
But Trandniester Is Another Story
The EU reaction to developments in Moldova's breakaway region of Transdniester was much more active.
Both Lehtomeaki and Ferrero-Waldner said the EU is concerned about Russia's lack of cooperation in resolving the conflict.
Ferrero-Waldner said Russian calls for some form of international recognition of Transdniester would "complicate" attempts to resolve the conflict:
"While we're happy that high-level talks between Russia and Moldova have recently resumed, we have been concerned about Russia's support to the Transdnistrian leadership," she said. "In a recent statement, [Russian Foreign] Minister Lavrov called for 'political recognition' of the results of the referendum in Transdniester which neither the European Union nor the OSCE have recognized. I think this could complicate finding a solution to this conflict."
Ferrero-Waldner said the EU also rejects Russia's insistence on a Transdniestrian-Moldovan "transit protocol." She said saying Moscow's attempts to win Transdniester recognition as an independent international actor are the main stumbling block in peace talks.
Ferrero-Waldner warned that without a resolution, the Transdniestrian issue will "seriously" hamper Moldova's political and economic development.
She said the recent partial resumption of talks between Chisinau and Tiraspol, although welcome, falls short of the comprehensive return to the negotiating table demanded by the EU.
Ferrero-Waldner also said the EU had been worried after Viktor Yanukovych's election as prime minister that Ukraine might stop enforcing strict controls on its border with Transdniester.
However, the commissioner said, Kyiv has since given the EU express assurances it will not drop its border controls.
Russian Sanctions On Georgia
Russian Sanctions On Georgia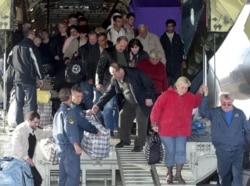 Georgian deportees arriving in Tbilisi on October 6 (epa)
RUSSIA DEPORTING GEORGIANS. Despite Georgia's release of four military officers accused of spying on October 2, Russia has continued its transport and postal blockade of Georgia, and has also deported hundreds of Georgians.... (more)
RELATED ARTICLES
Council Of Europe Head 'Concerned' About Reports Of Russian Sanctions
'No Time To Send Ambiguous Messages'
Ethnic Russians Feel Insulated From Tensions
Explaining West's Muted Response To Crisis
MORE: Coverage of the situation in Georgian from RFE/RL's Georgian Service and in Russian from RFE/RL's Russian Service.
ARCHIVE
RFE/RL's English-language coverage of
Georgia
and
Russia
.