They anticipate that Okruashvili will soon launch a military offensive against either South Ossetia or Abkhazia. But both Prime Minister Zurab Noghaideli and parliament speaker Nino Burdjanadze insist that Georgia remains committed to resolving its conflicts with those two breakaway regions by exclusively peaceful means.
High Tension
Khaindrava's dismissal comes at a point when tensions between Russia and Georgia have reached an all-time high in the wake of the Georgian parliament's demand for the withdrawal of the Russian peacekeeping forces deployed in the South Ossetian and Abkhaz conflict zones, a demand that officials in both unrecognized republics fear may herald a new aggression by Georgian forces.
South Ossetian President Eduard Kokoity commented on July 21 that Khaindrava's dismissal "will have a big impact" on efforts to resolve the conflict, while the region's deputy prime minister, Boris Chochiyev, interpreted it as a clear indication that "Georgia plans a military incursion," the independent television channel Rustavi-2 reported. By contrast, in Sukhum, Abkhaz Foreign Minister Sergei Shamba and President Sergei Bagapsh both downplayed Khaindrava's dismissal.
Moreover, Khaindrava was widely perceived as the last remaining "dove" within the Georgian leadership following the unexpected appointment in early June of Irakli Alasania, President Mikheil Saakashvili's special representative for the Abkhaz conflict, as Georgian ambassador to the UN. Alasania's flexibility and moderate stance resonated well with the Abkhaz side, and it was largely thanks to the good working relations he established with leading Abkhaz officials, Shamba in particular, that the two sides agreed earlier this year to resume sessions, suspended in January 2002, of the Coordinating Council established under the aegis of the UN.
Military Maneuver?
Senior Georgian officials were quick to reject speculation that Khaindrava's departure was intended to remove the last remaining obstacle to a military solution to the conflicts in Abkhazia and South Ossetia. Prime Minister Noghaideli told Rustavi-2 on July 22 that the Georgian leadership's commitment to resolving those conflicts peacefully is unchanged, and parliament speaker Burdjanadze conveyed the same message on July 24 to the ambassadors in Tbilisi of OSCE member states.
Meanwhile, some commentators have suggested alternative, and less alarming, explanations for Khaindrava's dismissal. One such explanation centers on Khaindrava's recent criticisms of his two most powerful cabinet colleagues, Interior Minister Vano Merabishvili and Okruashvili.
Khaindrava made clear his displeasure at the Tbilisi court verdict handed down on July 6 to four Interior Ministry staffers found guilty of the January murder of banker Sandro Girgvliani. Several other senior ministry personnel and Merabishvili's wife Tako Salakaya quarreled openly in a Tbilisi bar with Girgvliani hours before he was found on the outskirts of the city with his throat cut. Khaindrava commented publicly on July 6 that in Merabishvili's place, he would have resigned.
Two weeks later, Khaindrava clashed publicly with Okruashvili after the latter praised a military police official who detained a senior Russian officer traveling through the South Ossetian conflict zone in a vehicle with diplomatic license plates -- a clear violation of the Vienna Convention.
Warning Sign
Georgian political commentator Paata Zakareishvili offered a third possible explanation, telling the Russian daily "Nezavisimaya gazeta" of July 24 that he believes Khaindrava's dismissal was intended as a warning to the Georgian leadership to demonstrate a united front in the run-up to local elections scheduled for October 6.
Zakareishvili further made the point that the Georgian military cannot risk an ignominious defeat in either South Ossetia or Abkhazia in the run-up to the NATO summit in Riga in November at which Tbilisi hopes to be invited to proceed to an Intensified Dialogue with NATO, even if no firm invitation to join the alliance is forthcoming at that event.
Universal Principles?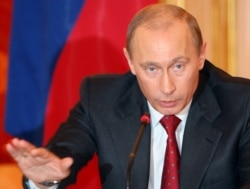 President Putin at a Kremlin meeting in April (epa)
PUTIN SPEAKS OUT: During a January press conference, Russian President Vladimir Putin said there is a need for "universal principles" to settle "frozen" conflicts in the CIS. His comments came against the background of impending talks on the future status of Kosovo, which many predict will grant it a form of "conditional independence" from Serbia and Montenegro. As an ally of Serbia, Moscow has consistently opposed the idea of Kosovar independence. Putin's remarks suggest he may be shifting his position, but only if the principles applied to Kosovo are also applied to frozen conflicts in the former Soviet Union. If Kosovo can be granted full independence, he asked, why should we deny the same to Abkhazia and South Ossetia? (more)
RELATED ARTICLES
Putin Calls For 'Universal Principles' To Settle Frozen Conflicts
Russia Key To OSCE's Attempts To Resolve Frozen Conflicts
Georgia Pushes For EU Backing In Standoffs With Russia
ARCHIVE
Click here to view archives of RFE/RL's coverage of the conflicts in Abkhazia, Chechnya, Kosovo, Nagorno-Karabakh, Ossetia, and Transdniester.