Both sides said the talks had been very frank and useful but conceded too that political relations between the two sides were not normal.
Among the issues addressed by the meeting were Georgia's unresolved conflicts in South Ossetia and Abkhazia and Russia's embargo on Georgian wine and mineral water.
The occasion got off to a bad start when Russian President Vladimir Putin kept his Georgian guest waiting three hours -- albeit on a day of intense high-level political engagements.
And when the talking finally started, President Mikheil Saakashvili could not conceal his frustration.
"Georgia is inclined to peaceful, progressive dialogue, most of all with Russia. We understand perfectly well that the Russian Federation is our main partner in these negotiations, and nobody [in Georgia] harbors any illusions in this regard. Unfortunately, so far we have more questions than answers," Saakashvili said.
Saakashvili made clear he had not come to St. Petersburg to beg for Russian favors on bended knee. President Putin listened with barely concealed irritation as the Georgian leader indirectly accused Russia of supporting separatism in South Ossetia and Abkhazia.
"Annexation of the territory of our country is taking place. We will never accept anyone seizing or taking our territory...Georgia is a small and beautiful country and it is best to leave it in peace. We have nothing more to give anyone. No one will ever take so much as one meter of either Abkhaz or South Ossetian territory," Saakashvili said.
Poor Relations
It is a measure of the poverty of Georgian-Russian relations at present that the fact of Tuesday's hastily conceived meeting is itself being regarded as a significant achievement. But it will give hope -- perhaps unjustified -- of a more far-reaching thaw in relations.
Yury Popov, who is the Russian co-chair of the Joint Control Commission which oversees the cease-fire in South Ossetia, said in Brussels today that the most important aspect of the meeting was that it gave the two presidents a well-needed opportunity to talk face-to-face.
"Bearing in mind the considerable problems that have accumulated between our countries, it would of course have been unrealistic to expect major results from this meeting. The most important thing is that it happened. As regards the Georgian-Ossetian conflict, it was stated that there is a desire to work together to resolve the existing problems in this sphere," Popov said. "So, I think that yesterday's [June 13] meeting creates a good basis for continuing joint work to regulate the Georgian-Ossetian conflict."
Nobody though will be holding their breath -- at least not on the issue of Georgia's frozen conflicts.
Growing Economic Ties
Nevertheless, Putin himself appeared to underscore the need to build on the meeting when he told journalists that he hoped the summit would mark a turning point.
"As regards mutual grievances and reproaches, these result from the absence of a necessary level of contacts and from a misunderstanding of the other party's actions. Rather than concentrating on this problem right now, I would like to highlight our mutual desire to recover from this situation," Putin said.
And rather than dwell on the problems between Georgia and Russia, he noted that despite an increasingly sour political relationship, economic ties were growing: "The growth of trade turnover is about 50 percent or more. [Russian] direct investment in Georgia's economy is growing. Over the past year, this direct investment has increased fivefold. Every year, Georgian citizens temporarily residing and working in Russia transfer between $1.5 billion and $2 billion from Russia to Georgia. This sum is much greater than any assistance [Georgia receives] from third states."
All very true. Russian investment in Georgia is indeed growing fast. Yet even here there was a veiled threat that will not have been lost on Saakashvili. As Putin is well aware, many Georgian families are heavily dependent on the money sent back from Georgian migrant workers in Russia. If Moscow were to deny them visas, the damage would be catastrophic.
Far more serious indeed than Russia's current embargo on Georgian wines and mineral waters.
Yet if the summit does offer a faint glimmer of hope, it must lie in the promise of better economic relations. There was a brief moment of light-hearted banter between the two presidents on the issue of Georgian wine, when Putin joked that the way to solve the problem might be Russian investment in Georgian wineries. Saakashvili retorted that if Russians wanted any wine they had better hurry up because Georgia's wineries were all being snapped up in the West.
MORE: For coverage of this topic in Russian from RFE/RL's Russian Service, click here.
South Ossetia Cease-Fire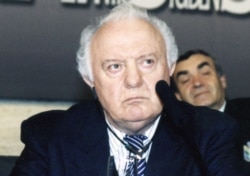 Former Georgian President Eduard Shevardnadze (RFE/RL)

'NO OTHER WAY OUT': Georgia's parliament on February 15 called upon the government to review the 1992 agreement that put an end to the war with South Ossetia and secure the withdrawal of all Russian peacekeepers stationed in the separatist republic. Officials in Tbilisi have long accused the Russian soldiers of siding with the separatist forces and posing a threat to Georgia's national security. Russia has protested the Georgian vote, arguing that Tbilisi has no right unilaterally to amend the 1992 peace agreement. Georgia, in turn, says it has the right to do so.
RFE/RL's Georgian Service correspondent Nona Mchedlishvili asked former President EDUARD SHEVARDNADZE, who signed the agreement with his then Russian counterpart, Boris Yeltsin, to comment on the dispute....(more)
See also:
Tbilisi Seeks EU Support As Tensions Rise In South Ossetia