PRAGUE, May 24, 2006 (RFE/RL) -- Suddenly, everybody wants to be just like Montenegro.
From Transdniester to South Ossetia to Abkhazia, separatist regions in the former Soviet Union are rushing to praise the Montenegrin independence vote -- and to hold it up as a model that they would like to follow.
A 'Civilized' Model?
Sergei Bagapsh, the president of Georgia's breakaway Abkhazia region, praised what he called Montenegro's "civilized" method of gaining self-determination.
Likewise, Yevgeny Shevchuk -- the speaker of separatist Transdniester's parliament -- told RFE/RL's Romania-Moldova Service that people there have the right to hold a similar vote -- if not for independence, then at least for autonomy:
"If we are going to proceed according to the principles of human rights and create conditions for a better life on the dignified level of Europeans in the 21st century, then we need to go down this path," Shevchuk said. "We have a historic opportunity."
But there are big differences between Montenegro and these post-Soviet separatist regions.
Montenegro's leadership enjoys wide legitimacy and the republic is considered a good international citizen.
Moreover, Montenegro's independence referendum was held with clear rules under the watchful eye of the European Union and with Serbia's acquiescence. There were no serious fears of violence.
The Threat Of Violence
By contrast, the threat of unrest is never far off in Abkhazia or South Ossetia, whose relations with the Georgian government in Tbilisi are often openly hostile. Transdniester, likewise, has poor ties with Chisinau. And all three regions are widely viewed as lawless safe havens for smugglers and organized-crime groups.
All three are also strongly supported by Russia, which has been accused of exploiting the conflicts to maintain leverage in its relations with pro-Western Georgia and Moldova.
Georgia is working hard to bring Abkhazia and South Ossetia back into its fold and resents what it sees as Russian meddling on its territory.
In an interview with RFE/RL's Georgian Service, Irakli Menagarishvili, a former Georgian foreign minister and currently the head of the country's Center for Strategic Studies, warned the international community against applying the Montenegrin model to trouble spots in the former USSR.
No Single Solution
"Drawing parallels here is not only unacceptable, but also dangerous," Menagarishvili said. "Cases like these have their specific historical, political, and other dimensions. Hence each of them has to be considered and solved separately. Any attempt at generalization or universalization is, to repeat once again, not only unacceptable, but also dangerous."
One breakaway region in the former Soviet Union where an independence referendum proved problematic was the ethnic-Armenian enclave of Nagorno-Karabakh in Azerbaijan.
Many in Nagorno-Karabakh feel that residents of the region were punished for voting for independence in 1991 -- paying with their lives in the war that ensued.
How Could Referendums Work?
So, with all these differences, can Montenegro's smooth transition nevertheless serve as a model for resolving any of the stubborn frozen conflicts in the former Soviet Union?
Karel De Gucht, the OSCE's chairman in office, thinks it can -- but only if all sides agree in advance to respect the result.
"You can only have that kind of referendum if all parties agree about the referendum and agree about the outcome of the referendum," de Gucht said. "That is why the proposal of the international community by Ambassador [Miroslav] Lajcak -- that you should have at least 55 percent of the people voting in favor [in Montenegro] -- was an important element, because it was also accepted by all parties concerned. A referendum where first of all the organization of, and, second, the result, the outcome, are not guaranteed beforehand can also be very divisive. So it can be a solution, provided that everybody agrees to accept the result."
Likewise, Alexander Rahr, an expert on Russia and the former Soviet Union at the German Council of Foreign Relations, said holding a referendum is the fairest and most democratic way to resolve such issues.
But for independence votes to work, they must be held under free, fair, and open conditions -- circumstances that are conspicuously absent in Transdniester, Abkhazia, and South Ossetia.
Moreover, Rahr pointed out that Russia might try to manipulate the results of referendums in the pro-Moscow regions.
"In Montenegro, a referendum could be held in a real democratic way under the supervision of Western democratic institutions," Rahr said. "That may not be the case in Abkhazia, South Ossetia, or Transdniester, where there is a fear these results could be forged and controlled by Russia."
For its part, Russia will likely be careful about pushing the Montenegro model too far.
Citing Montenegro as a Western-endorsed precedent may suit the Kremlin's needs in Georgia and Moldova's separatist regions.
But Moscow would be unlikely to endorse such a scenario on its own territory -- most notably, in Chechnya.

Unknown Victims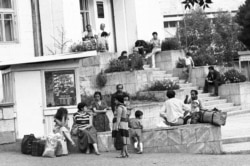 Ethnic Armenians displaced by fighting in Nagorno-Karabakh in the 1980s (Photolur)
HOW MANY MISSING? Well over a decade after conflicts in the South Caucasus froze, the International Committee of the Red Cross says new cases of missing people continue to emerge. Significant progress will, it fears, have to wait for final peace agreements.
Ethnic conflicts in the 1990s claimed tens of thousands of lives in the South Caucasus. Some 15 years later, many families are still searching for information about relatives who disappeared without a trace in the fighting.... (more)
RELATED ARTICLES
Frozen Conflicts Show Little Sign Of Thaw

South Caucasus Countries Discuss 'Frozen Conflicts,' Closer Ties
ARCHIVE
Click here to view archives of RFE/RL's coverage of the conflicts in Abkhazia, Chechnya, Kosovo, Nagorno-Karabakh, Ossetia, and Transdniester.

Click on the icon to view images of the Nagorno-Karabakh conflict (Flash required)