RFE/RL: I'd like to touch on the issue of frozen conflicts such as South Ossetia, Abkhazia, Transdniester, and Nagorno-Karabakh. Is it possible, in reality, to even speak of issues of transportation networks in these regions until basic issues of sovereignty have been resolved? Can anything be done in the interim?
Karel De Gucht: It certainly is important to do so because when you look at certain frozen conflicts it is obvious that problems with respect to borders, crossing borders, and transport are part of the conflict. This is very clear in the Nagorno-Karabakh frozen conflict, where the closure of the border with Turkey is one of the elements that is complicating the whole conflict. I am just giving this as an example. There is certainly a link between transportation problems and the fact that some of these frozen conflict are continuing. On the other hand, I also think it is also very important to be proactive and to discuss whatever transportation problems might occur, to make it impossible that they [create] new conflicts -- maybe not what we call frozen conflicts, but new conflicts or new discussions between participating states.
RFE/RL: Do you think transportation issues can be used to push negotiations forward in these frozen conflicts?
De Gucht: You know, when you are talking about transportation, you are in fact talking about the freedom for goods to circulate. That is what you are really talking about. This is one of the four cornerstones of the European Union, of the European Economic Union. Right from the start in 1957 -- already in 1957 we identified this as a cornerstone of regional cooperation. Freedom for goods to circulate. And that is what we are doing on the basis of transport. It is about common criteria. This is a highly political subject, in the broad sense of the word.
RFE/RL: Can the new customs rules implemented in March on the Transdniester part of the Moldovan-Ukrainian border be a potential model?
De Gucht: Well, what you witnessed there is that Ukraine is in fact installing customs on its border with Moldova in a way that Transdniestrian companies have to comply with Moldovan customs and also register there. This is of course an act of sovereignty that I am not going to debate. But it is obvious that this is influencing what is happening in that part of the region.
RFE/RL: Can what we just saw with the Montenegrin referendum be possible in other areas like Nagorno-Karabakh, South Ossetia, Abkhazia, and Transdniester?
De Gucht: You can only have that kind of referendum if all parties agree about the referendum and agree about the outcome of the referendum. That is why the proposal of the international community by Ambassador [Miroslav] Lajcak -- that you should have at least 55 percent of the people voting in favor -- was an important element, because it was also accepted by all parties concerned. A referendum where first of all the organization of, and second the result, the outcome, are not guaranteed beforehand can also be very divisive. So it can be a solution, provided that everybody agrees to accept the result.
RFE/RL: In your statements about Nagorno-Karabakh you have been very upbeat about solving the conflict in 2006. Do you still believe the Armenians and Azerbaijanis can sign a peace deal this year?
De Gucht: This is not a question of belief. What we are trying to do is help them come to a solution. Sometimes you have more hope, and sometimes the hope is fading away. What we must do is continue to the end of the year, to the bitter end of our chairmanship-in-office, to try to find ways and means to get out of this frozen conflict. I am not desperate about it; I wouldn't say I'm optimistic. It depends on the two parties concerned, Armenia and Azerbaijan. They have to come to an agreement. We can try to [help] them to do so, but they need to come to an agreement.
The Nagorno-Karabakh Conflict
The Nagorno-Karabakh Conflict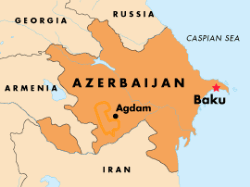 Click on the image to view an enlarged map of the Nagorno-Karabakh conflict zone

In February 1988, the local assembly in Stepanakert, the local capital of the Azerbaijani region of NAGORNO-KARABAKH, passed a resolution calling for unification of the predominantly ethnic-Armenian region with Armenia. There were reports of violence against local Azeris, followed by attacks against Armenians in the Azerbaijani city of Sumgait. In 1991-92, Azerbaijani forces launched an offensive against separatist forces in Nagorno-Karabakh, but the Armenians counterattacked and by 1993-94 had seized almost all of the region, as well as vast areas around it. About 600,000 Azeris were displaced and as many as 25,000 people were killed before a Russian-brokered cease-fire was imposed in May 1994.
CHRONOLOGY: For an annotated timeline of the fighting around Nagorno-Karabakh in 1988-94 and the long search for a permanent settlement to the conflict, click here.

Click on the icon to view images of the Nagorno-Karabakh conflict (Flash required)
To view an archive of all of RFE/RL's coverage of Nagorno-Karabakh,
click here.