Before the present crisis, Russia's policy toward Georgia was relatively straightforward. Moscow would try by whatever means necessary to preserve the status quo in Georgia's breakaway provinces of Abkhazia and South Ossetia. The hope was that the "frozen conflicts" remaining frozen would thwart Georgia's NATO ambitions. Tbilisi, for the same reason, wants to find a solution to the territorial disputes.
But now Russia has changed the emphasis of its policy -- ramping up the rhetoric and taking a harder line with Georgia.
The tone was set by Defense Minister Sergei Ivanov, who many say initiated Moscow's "hard-line" with Georgia. In an interview with vesti7.ru on October 8, he said that Russia "does not want to fight a war" with Georgia.
But, he added, Abkhazia and South Ossetia are another matter. "There we have our peacekeepers, and 90 percent of the population are our citizens. If they are attacked or ethnically cleansed, we will not remain idle," Ivanov said.
A day earlier Russian President Vladimir Putin, in a letter to OSCE Chairman Karel de Gucht, accused Tbilisi of preparing a "coercive solution" to the "frozen conflicts" and asked the OSCE to urge a "radical change in [Georgia's] fundamental course."
Other Russian commentators have been more categorical. Speaking on NTV, Viltaly Tretyakov, the editor in chief of pro-Kremlin magazines "Moskovskie novosti" and "Politchesky Klass," said that Georgia's policy is to confront Russian national interests in the Caucasus, which are "to prevent the appearance of a second geopolitical force." "It is not that we do not want Georgia in NATO," Tretyakov said, "but that we do not want NATO and the United States in the Caucasus."
Even former Russian President Mikhail Gorbachev weighed in with a memorandum, most probably with the Kremlin's blessing, released by Interfax on October 6. The former Soviet president, who accompanied Putin on his visit to Germany on October 10-11, directly accused the United States of trying to weaken Russian influence in the Caucasus and "changing the balance of power in the Black Sea region to its benefit."
Gorbachev added that the "logic of international development may lead Russia to a situation in which we will have no other choice but to recognize Abkhazia and [about this] we should directly warn the United States and its allies."
But, war of words aside, what kinds of pressure can Russia apply on Georgia?
It's possible that Moscow will increase gas prices for Georgia from $110 to $250 per cubic meter. The Kremlin could also ban top Georgian officials, including President Mikheil Saakashvili, from traveling to Russia, even just in transit. And if the Kremlin really wanted to up the ante it could push organizations such as the Non-Aligned Movement and others to recognize Abkhazia and South Ossetia.
But most of all Russia wants to preserve its influence in the Caucasus. As it seems impossible to do this in a positive way, through developing relations with Georgia, Russia is seeking to isolate Georgia economically.
On October 13, the UN Security Council adopted a Russia-sponsored resolution, which urges Tbilisi to refrain from any provocative action in Georgia's breakaway region of Abkhazia. The resolution, which also extends the mandate of the UN observer mission in Georgia by six months, was hailed in Moscow as a success.
However, the resolution is unlikely to change much. Most Russian experts believe that the point of no return has now been passed and relations between the two nations will never be the same again. As it is no longer considered by Moscow to be a "friendly" nation, perhaps Georgia has finally left Russia's orbit.
Russia And Georgia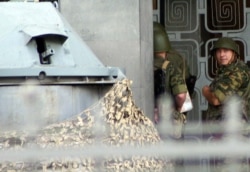 Beefed up security outside Russian military headquarters in Tbilisi on September 27 (InterPressNews)
NOT ALL WINE AND ROSES.
Moscow's relations with Tbilisi since the collapse of the Soviet Union have often been tense and strained. Among the issues that have made the relationship difficult are Moscow's alleged support for the breakaway Georgia regions of Abkhazia and South Ossetia, as well as the continued presence of Russia troops on Georgian territory. Periodically, Georgian lawmakers propose withdrawing from the Commonwealth of Independent States (CIS) altogether. RFE/RL has written extensively about the rocky relationship between these two countries.
RELATED ARTICLES
Saakashvili Seeks Meeting With Putin
Russian-Georgian Friendship Still Warm, Despite Frosty Politics
Georgia To Assess Repercussions Of Quitting CIS
Russia Impounds Georgian Mineral Water
Georgian Agriculture Minister In Moscow For Talks On Wine Ban
Russia Pledges To Complete Georgia Pullout On Schedule
ARCHIVE
RFE/RL's complete coverage of
Georgia
and
Russia
.