UNITED NATIONS, October 14, 2006 (RFE/RL) -- The United Nations Security Council on October 13 adopted a resolution extending the mandate of the United Nations Observer Mission in Georgia (UNOMIG) by another six months until April 15, 2007.
After the vote, members of the council called on UN Secretary-General Kofi Annan to explore with both sides how they can build confidence, improve security and reduce tensions in the upper Kodori Gorge and the districts of Gali and Zugdidi.
The Russian-sponsored resolution acknowledges that the "new and tense" situation resulted in part from the Georgian special operation in the upper Kodori Gorge and urges Tbilisi to ensure that no troops unauthorized by the Moscow cease-fire agreement of 1994 were present in that area.
Russia's ambassador to the UN Vitaly Churkin expressed his government' satisfaction with the text, saying that "the resolution in our view contains a number of strong signals to the Georgian side about the need to comply with the Moscow agreements of 1994 and other existing arrangements pertaining to the Georgia-Abkhazia conflict."
He particularly welcomed the resolution's expression of concern about Georgia's activities in the Kodori Gorge.
The conflict in Abkhazia began with social unrest and attempts by the local authorities to separate from Georgia. Nearly 300,000 people were displaced after a series of armed confrontations in mid-1992. Tensions rose again after an operation by Georgian special forces in the upper Kodori Gorge in July this year.
The UNOMIG was set up in August 1993 and currently has 121 military observers and 12 civilian police officers in place, as well as nearly 300 civilian staff members.
The resolution reiterates calls on Georgia to "address seriously legitimate Abkhaz security concerns" and to avoid militant rhetoric or provocative actions.
It also urges the Abkhaz leadership to tackle "the need for a dignified return of internally displaced persons (IDPs) and refugees" and to publicly reassure locals, especially in the Gali district, that their rights of residency and identity will be respected.
Irakli Alasania, who is Georgian President Mikheil Saakashvili's envoy to the Georgian-Abkhaz talks, said after the resolution was adopted that the inefficiency, in his view, of the Russia-led CIS peacekeeping troops for the last 12 years can no longer be tolerated.
"The time for the status quo preservation is over," he said. "We want to have the real, meaningful peace keeping operation on the ground."
Asked whether Russian troops should be a part of a newly devised peacekeeping contingent, Alasania said "they can play, if the political will is there, a positive role in the conflict resolution."
For his part, Ambassador Churkin expressed regret that Russia had not been able to bring to the Security Council consultations Sergei Shamba, the foreign minister of the internationally unrecognized Abkhaz government. Churkin said Shamba had been denied a U.S. visa in Moscow.
Alasania, Georgia's envoy, said that Shamba would not have been allowed to enter the UN building in Manhattan even if he had been granted a U.S. visa, as only representatives of officially recognized countries can attend sessions of the Security Council.
The resolution calls on the Georgian and Abkhaz leadership "to follow up on their expressed readiness for a meeting of their highest authorities without preconditions."

Moscow And Tbilisi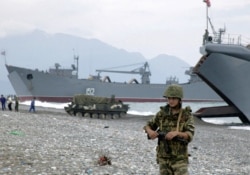 Russian military hardware being withdrawn from a Russian base in Batumi, Georgia, in August 2005 (TASS)

WHAT COMES NEXT? Although Russia is unlikely to push an aggressive military response to the current tensions with Georgia, it has a number of economic, political, and diplomatic options at its disposal. Already on October 1, Russian President Vladimir Putin summoned his inner circle to weigh Moscow's options... (more)
RELATED ARTICLES
Russia Says Georgia Sanctions Will Continue
Russia Suspends Transport, Postal Links To Georgia
EU Commissioner Urges Dialogue With Moscow
Ulterior Motives Seen Behind Escalation Of Spy Row
Georgia Turns Russians Over To OSCE
MORE: Coverage of the situation in Georgian from RFE/RL's Georgian Service and in Russian from RFE/RL's Russian Service.
ARCHIVE
RFE/RL's English-language coverage of
Georgia
and
Russia
.