Saakashvili was accompanied by the defense minister, the speaker of parliament and Georgia's Orthodox patriarch, Catholicos Ilia II.
On September 26, Saakashvili said the upper part of the Kodori Gorge, which is controlled by Tbilisi, should from now on be officially referred to as Upper Abkhazia.
He said all foreign diplomats visiting the breakaway province would also be required to visit the government-in-exile, to be based in the village of Chkhalta.
Abkhaz separatist leader Sergei Bagapsh called the moves a "provocation". Russia's Foreign Ministry warned that Saakashvili's visit to the region would be "dangerous and untimely."
Today, secessionist authorities in Abkhazia celebrate the 13th anniversary of the ouster of Georgian troops from the regional capital Sukhum(i).

(Rustavi 2, Caucasus press, civil.ge)
Unknown Victims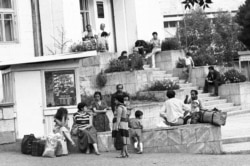 Ethnic Armenians displaced by fighting in Nagorno-Karabakh in the 1980s (Photolur)
HOW MANY MISSING? Well over a decade after conflicts in the South Caucasus froze, the International Committee of the Red Cross says new cases of missing people continue to emerge. Significant progress will, it fears, have to wait for final peace agreements.
Ethnic conflicts in the 1990s claimed tens of thousands of lives in the South Caucasus. Some 15 years later, many families are still searching for information about relatives who disappeared without a trace in the fighting.... (more)
RELATED ARTICLES
Frozen Conflicts Show Little Sign Of Thaw

South Caucasus Countries Discuss 'Frozen Conflicts,' Closer Ties
ARCHIVE
Click here to view archives of RFE/RL's coverage of the conflicts in Abkhazia, Chechnya, Kosovo, Nagorno-Karabakh, Ossetia, and Transdniester.

Click on the icon to view images of the Nagorno-Karabakh conflict (Flash required)