According to EU sources in Brussels, the EU's foreign ministers' meeting in Luxembourg on October 17 is likely to adopt a declaration sharply critical of Moscow -- although its wording may still change in the coming days.
The EU move -- if it survives what is liable to be a heated debate among EU ministers -- would mark a change in the union's approach to Georgian-Russian tensions.
An EU diplomat -- who asked not be named -- said EU ambassadors agreed on a preliminary text today. However, as the matter is highly sensitive, the final wording will be decided among EU ministers over lunch in Luxembourg.
The diplomat said that although the wording of the declaration may change, it is likely to be adopted in a shape "that will be difficult for the Russians to misinterpret." The text does, however, also urge both sides from any action liable to inflame the tensions.
Nordic Backing
The current text with its sharp criticism of Russian measures was backed by the EU's Nordic, Baltic, and some Central European member states. While the Czech Republic was said to be its formal initiator, a major influence behind the draft declaration appears to have been Sweden's new Foreign Minister Carl Bildt. Bildt served as Swedish Prime Minister in the 1990s and afterwards became active in conflict resolution issues in the Balkans and the former Soviet Union.
The draft declaration was opposed by Italy, Greece, and Portugal -- countries traditionally friendly towards Russia. Significantly, however, both Germany and France -- usually also advocates of a softer EU line towards Russia -- remained outside the fray.
The United Kingdom was described by the EU source quoted above to have been "significantly" more skeptical of Russia than often in the past, perhaps due to the recent difficulties encountered by the mostly British-owned oil company Shell.
Shell's $20 billion joint venture with two Japanese companies to develop the Sakhalin-2 oil and gas field has been threatened with closure after the Russian authorities annulled its environmental permits last month.
EU Needs Russian Support On North Korea
EU member states -- in particular the United Kingdom and France with their permanent seats on the UN Security Council -- will, however, be aware of the need to secure Russian cooperation in the international arena. Especially with regard to the nuclear ambitions of North Korea and Iran.
Also, some in Brussels have noted that most EU member states are unlikely to risk spoiling the atmosphere at the informal EU summit in Lahti, Finland, on October 20, where Russian President Vladimir Putin will be a dinner guest.
Nonetheless, the EU diplomat quoted above, said the supporters of the current draft of the declaration made it clear this week they will not back down.
A European Commission official said today the EU has deep concern about the possible "political, economic, and humanitarian impact" on Georgia of the country's mounting tensions with Russia.
Numerous EU sources have indicated this week, that regardless of widespread support within the EU for Georgia, many member states and officials in Brussels do not approve of Tbilisi's tactics toward Moscow. As the diplomat who spoke with RFE/RL today put it, Georgia tends to "overplay its hand, making it difficult for its friends to help it."
Moscow And Tbilisi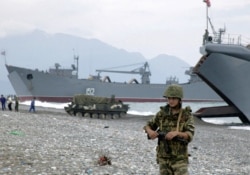 Russian military hardware being withdrawn from a Russian base in Batumi, Georgia, in August 2005 (TASS)

WHAT COMES NEXT? Although Russia is unlikely to push an aggressive military response to the current tensions with Georgia, it has a number of economic, political, and diplomatic options at its disposal. Already on October 1, Russian President Vladimir Putin summoned his inner circle to weigh Moscow's options... (more)
RELATED ARTICLES
Russia Says Georgia Sanctions Will Continue
Russia Suspends Transport, Postal Links To Georgia
EU Commissioner Urges Dialogue With Moscow
Ulterior Motives Seen Behind Escalation Of Spy Row
Georgia Turns Russians Over To OSCE
MORE: Coverage of the situation in Georgian from RFE/RL's Georgian Service and in Russian from RFE/RL's Russian Service.
ARCHIVE
RFE/RL's English-language coverage of
Georgia
and
Russia
.