Ivanov said that the entire garrison of some 390 soldiers and more than 480 civilians will leave Georgia before the end of this year because of what he called the "wise" policies of the Georgian government.
His comments, made on October 10, come amid the worst crisis in bilateral relations in years, triggered by Georgia's expulsion of four alleged Russian spies.
Ivanov also reiterated assurances that Russia will vacate its two bases in Georgia, at Batumi and Akhalkalaki, by the end of 2008 as planned.
He said Russia is not seeking to annex or incorporate Georgia's breakaway regions of Abkhazia and South Ossetia but also said that Russian peacekeepers there will not leave until all sides in the conflict demand that it withdraw.
(RIA Novosti, Interfax, AP)
Moscow And Tbilisi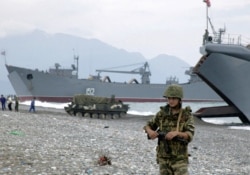 Russian military hardware being withdrawn from a Russian base in Batumi, Georgia, in August 2005 (TASS)

WHAT COMES NEXT? Although Russia is unlikely to push an aggressive military response to the current tensions with Georgia, it has a number of economic, political, and diplomatic options at its disposal. Already on October 1, Russian President Vladimir Putin summoned his inner circle to weigh Moscow's options... (more)
RELATED ARTICLES
Russia Says Georgia Sanctions Will Continue
Russia Suspends Transport, Postal Links To Georgia
EU Commissioner Urges Dialogue With Moscow
Ulterior Motives Seen Behind Escalation Of Spy Row
Georgia Turns Russians Over To OSCE
MORE: Coverage of the situation in Georgian from RFE/RL's Georgian Service and in Russian from RFE/RL's Russian Service.
ARCHIVE
RFE/RL's English-language coverage of
Georgia
and
Russia
.