About 150 Georgians were deported from Moscow on a cargo plane on October 5, drawing a protest from President Mikheil Saakashvili who likened the plane to a "cattle truck."
The deportations, which Georgian parliamentarians on October 10 unanimously declared to be a demonstration of "xenophobia" and "ethnic discrimination" on the part of Russia, come amid a crisis in bilateral relations triggered by the arrest of four Russian soldiers in Tbilisi on charges of spying.
The soldiers were subsequently released, but Moscow nonetheless went ahead with a number of measures, including travel restrictions.
The Ilyushin-62 passenger plane carrying the Georgian deportees will return to Moscow carrying Russians stranded in Georgia by the travel ban.
The crisis is expected to be on the agenda when NATO's special representative for the Caucasus and Central Asia, Robert Simmons, meets Georgian officials in Tbilisi on October 10. The meeting comes three weeks after NATO offered Georgia closer relations within the framework of an "intensified dialogue" with the alliance. Georgian politicians have said they believe that Russia's measures against Georgia are an expression of its anger at Tbilisi's closer relationship with NATO.
(Interfax, AFP, AP, Rustavi 2, Novosti Gruziya)

Moscow And Tbilisi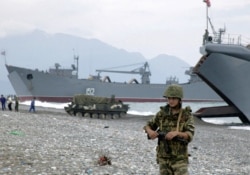 Russian military hardware being withdrawn from a Russian base in Batumi, Georgia, in August 2005 (TASS)

WHAT COMES NEXT? Although Russia is unlikely to push an aggressive military response to the current tensions with Georgia, it has a number of economic, political, and diplomatic options at its disposal. Already on October 1, Russian President Vladimir Putin summoned his inner circle to weigh Moscow's options... (more)
RELATED ARTICLES
Russia Says Georgia Sanctions Will Continue
Russia Suspends Transport, Postal Links To Georgia
EU Commissioner Urges Dialogue With Moscow
Ulterior Motives Seen Behind Escalation Of Spy Row
Georgia Turns Russians Over To OSCE
MORE: Coverage of the situation in Georgian from RFE/RL's Georgian Service and in Russian from RFE/RL's Russian Service.
ARCHIVE
RFE/RL's English-language coverage of
Georgia
and
Russia
.