RFE/RL:
To this point, the EU has been relatively restrained in its reaction to the blockade Russia initiated on Georgia and the crackdown against Georgians living in Russia. Is this stance likely to continue, or can we expect stronger words from Brussels?
Amanda Akcakoca:
Personally, I don't think the European Union is going to react in any really strong fashion, apart from making, perhaps, some statements against it. But beyond the usual diplomatic statements I don't think they are going to do anything because, again, the European Union has a history of not wanting to upset the Russians.
It's not the first time the Russians have violated [the rights of] people within their state. I mean, they do it every single day, and they get away with it. So whether they are doing it now to the Georgians or not doing it to the Georgians, I don't think you are going to see a big statement from the EU about it. Maybe a diplomatic statement, but this is it.
RFE/RL:
What does the EU hope to achieve through its current approach?
Akcakoca:
I think that the EU is trying to make quite a pragmatic stance. I mean, it's trying to ask for some calm between the two countries, taking a realistic approach. It's asking, on the one hand, Georgia to think carefully about what it is doing, to change its approach toward Russia, and on the other hand is asking the Russians to drop the sanctions that they have introduced on Georgia. But at the moment I don't think it's resulting in anything very positive for either side.
RFE/RL:
In a speech to the European Parliament's Foreign Affairs Committee on October 4, [EU foreign-policy chief Javier] Solana said he fears a "Kosovo" precedent for the situation in Abkhazia and South Ossetia. What did he mean by this?
Akcakoca:
The independence of Kosovo can become a precedent to all these breakaway states. Solana gave the impression that it could be a worrisome thing in the future. But at the same time he didn't really give any reaction as to how they would deal with it if suddenly South Ossetia and Abkhazia want to have independence.
I don't think the EU knows at the moment how they are going to deal with it. It is something they are going to have to tackle in the future, but at the moment I don't think they've gone beyond sort of beginning to think about it.
Usually, as with the EU, those things are left for the last moment when it is probably too late. I mean, maybe they should have thought about this before. It's not the first time this issue has been raised by other parties. But it is only now that I've actually heard -- I think this is the first time I've actually heard Solana or anybody in the EU really refer to them setting a precedent with Kosovo.
Moscow And Tbilisi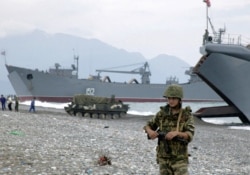 Russian military hardware being withdrawn from a Russian base in Batumi, Georgia, in August 2005 (TASS)

WHAT COMES NEXT? Although Russia is unlikely to push an aggressive military response to the current tensions with Georgia, it has a number of economic, political, and diplomatic options at its disposal. Already on October 1, Russian President Vladimir Putin summoned his inner circle to weigh Moscow's options... (more)
RELATED ARTICLES
Russia Says Georgia Sanctions Will Continue
Russia Suspends Transport, Postal Links To Georgia
EU Commissioner Urges Dialogue With Moscow
Ulterior Motives Seen Behind Escalation Of Spy Row
Georgia Turns Russians Over To OSCE
MORE: Coverage of the situation in Georgian from RFE/RL's Georgian Service and in Russian from RFE/RL's Russian Service.
ARCHIVE
RFE/RL's English-language coverage of
Georgia
and
Russia
.