RFE/RL:
Russian President Vladimir Putin seemed very explicit in warning nations friendly to Georgia not to speak or act in ways that might be interpreted as encouraging to its president, Mikheil Saakashvili. Is his message reaching the leaders of the United States and the EU?
James Millar:
From what I've seen, I think the United States is trying to be very careful not to be seen as the instigator of the problem, because [the] Russians might misread that. But I think that Russia must know that [the] United States is not really prepared to let them march in [and invade Georgia]. But it's a very tense situation and you have to hope that Saakashvili has not overplayed his hand.
RFE/RL:
Perhaps Russia's response is so sharp because of the way in which Saakashvili's government confronted Russia by arresting the four officers. But is it possible that Putin has saved such a reaction until now, when the United States is perhaps preoccupied with an increasingly difficult war in Iraq?
Millar:
I would hope that we aren't so preoccupied that they [U.S. diplomats] haven't sent back-channel [private] messages to Russia saying, 'OK, you've rattled the sword, but don't go any further than that.' Let them know that we really wouldn't stand for an invasion of Georgia. Which I assume we wouldn't. I don't know what we'd do about it, but I don't think we'd stand for it.
Europeans Treading LightlyRFE/RL:
Why has the European response also been so mild? Is it simply a matter of politics?
Millar:
I think the EU has had a pretty hands-off attitude about Georgia and left it to the United States to play that role [as Georgia's defender]. They [EU nations] had a bigger role with Ukraine [during the 2004-05 Orange Revolution], but they've been backing off on Ukraine, too, partly because they had a big problem digesting what they've swallowed [the Eastern European countries admitted to the EU] already from the former Soviet empire. But I would say [the] EU has a bigger interest in Ukraine than it does in Georgia, and I think they figure the United States will have to be the defender of Georgia.
RFE/RL:
Doesn't it seem odd that Europe would want the United States to serve as Georgia's only defender? After all, much of Europe is angry at Washington, accusing it of acting unilaterally by invading Iraq in 2003.
Millar:
That's probably true, but it's also true that this [the Georgia-Russia confrontation] is not something that's ginned up by the U.S. president. They know that this is coming from Putin. I think the EU is going to be very careful with Russia simply because they are so heavily dependent on Russian energy, and until they can find some alternative sources, which is not going to be easy, they're going to have to walk softly.
RFE/RL:
Are the Europeans, then, being cynical? Or merely realistic?
Millar:
I think Georgia is not high on their [the EU's] priority list of things that they have to worry about, and I think that most people probably believe the Russians really aren't going to invade. What [Russia is] hoping is to get the kind of deal they got in Ukraine, and that is, cause enough trouble that they'll have a change of government to a government that's more acceptable to the Russians and more amenable to Russian influence. But, again, they get pushed to a certain point and you don't know what's going to happen.
RFE/RL:
An article in today's "The Wall Street Journal" newspaper says Putin's Russia is succeeding at keeping most of the countries from the old Soviet sphere of influence from moving closer to the West. Do you agree?
Millar:
That's been Putin's aim all along, and there are limits on what can be done, but right now they're flush in terms of [oil and gas] revenue, in terms of income. And this is going to be costly. Fortunately they [the Russians] can afford a little more of this kind of empire building, but they have in fact been pretty successful in both Central Asia and Ukraine in getting a more positive reaction, more positive lean, towards Russia than was true a few years ago. And it is partly the distraction of the Bush administration, but it's also the fact that this is their backyard, and they have a lot of connections that go back a long time. So they're not without supporters in Georgia, and certainly they have plenty of supporters in Ukraine.
Moscow And Tbilisi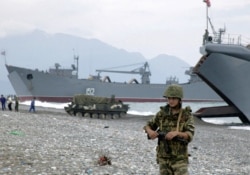 Russian military hardware being withdrawn from a Russian base in Batumi, Georgia, in August 2005 (TASS)

WHAT COMES NEXT? Although Russia is unlikely to push an aggressive military response to the current tensions with Georgia, it has a number of economic, political, and diplomatic options at its disposal. Already on October 1, Russian President Vladimir Putin summoned his inner circle to weigh Moscow's options... (more)
RELATED ARTICLES
Russia Says Georgia Sanctions Will Continue
Russia Suspends Transport, Postal Links To Georgia
EU Commissioner Urges Dialogue With Moscow
Ulterior Motives Seen Behind Escalation Of Spy Row
Georgia Turns Russians Over To OSCE
MORE: Coverage of the situation in Georgian from RFE/RL's Georgian Service and in Russian from RFE/RL's Russian Service.
ARCHIVE
RFE/RL's English-language coverage of
Georgia
and
Russia
.