Russia has imposed the blockade despite Tbilisi's release of four Russian military officers arrested on September 27 on spying charges.
Sending Money Home
Neither the Georgian nor the Russian government has exact statistics on the number of Georgians living -- legally or illegally -- in Russia. Estimates range from 400,000 to 1 million people.
However, Georgia's Central Bank has provided one measure of the impact its citizens living in Russia have on Georgia's economy. The bank estimates they transferred $220 million from Russia to Georgia in the first half of 2006 -- accounting for nearly 15 percent of Georgia's GDP.
"Most of us in Zugdidi, we survive on sums of money that are sent to us from other countries, or Russia," Chachibaia says.
Lado Kvikvinia, a 48-year-old engineer, moved to Moscow in 1994 to seek a better life. Four years ago, he received Russian citizenship.
Kvikvinia says that when he left Georgia, people in his profession were experiencing severe difficulties.
"It was impossible to find work," Kvikvinia said. "You are well aware that it is only now that they started building things in Georgia. Before, they were only destroying. In any case, I was unable to find any work."
Kvikvinia says he found that the high level of competition meant it was not easy to find work in Moscow either. However, his degree from the Polytechnic Institute of Tbilisi worked to his advantage, and he is a district head for a construction company.
His earnings in Russia aren't much, he says. But they allow him to support his immediate family of three in Moscow and to send some to his sister living in the Georgian city of Zugdidi.
"You can only send so much money from here," Kvikvinia says. "It's around $1,000 a year. On average, $100 a month -- more or less."
Hard Times In Zugdidi
Kvikvinia's nephew, 20-year-old Ilia Chachibaia, says his family is able to survive thanks to the money his uncle sends from Russia. The income Chachibaia brings in from his work as a street vendor is too small to maintain a decent living, but he says it is impossible for him to find other work in Zugdidi.
"There is great poverty in Zugdidi, with no job opportunities at all," Chachibaia says. "There are many people who don't even have money for food. The price of hazelnuts has decreased, and this has severely affected people's lives. Nuts and tangerines were the main source of income. Now these products have become cheaper, and people are facing financial problems."
Zugdidi inhabitants are alarmed by the financial restrictions being threatened by Russia, where lawmakers are due to discuss legislation that would prohibit money transfers between the two countries.
Worried About The Future
Chachibaia says people are afraid such measures will prevent them from receiving much-needed supplemental funds from relatives and friends living in Russia.
"Most of us in Zugdidi, we survive on sums of money that are sent to us from other countries, or Russia," Chachibaia says. "Many worried people went to the bank today. They are panicking, for they can't receive money like they always have from Moscow."
Chachibaia's uncle abroad has tried to assuage his concerns. Kvikvinia tells his nephew that increased expenditures will be the only real hurdle faced by ordinary Georgians.
"It will always be possible to send money," Kvikvinia says. "It's just that before I had to pay 1.5 percent of the amount I was sending. There are other channels for international money transfers, which have high rates. So this will only affect my pocket. It is absolutely impossible that Russia will ban Western Union from transferring money, or will forbid money transfers to Georgia but allow them to Armenia, for example. The same thing applies to travel. It won't be a big problem not to have transport going from here. You can take a train, and be in Minsk the following morning. From there, you can fly without problems. It's just that the ticket price is twice as much."
Despite anticipating increased costs, Kvikvinia has no intention of stopping his monthly financial contributions to his extended family in Georgia.
Although Kvikvinia and other Georgians living in Russia worry that this is just the beginning and that relations between the two countries could deteriorate further.
Moscow And Tbilisi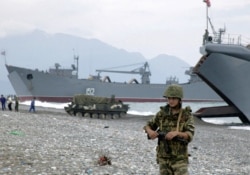 Russian military hardware being withdrawn from a Russian base in Batumi, Georgia, in August 2005 (TASS)

WHAT COMES NEXT? Although Russia is unlikely to push an aggressive military response to the current tensions with Georgia, it has a number of economic, political, and diplomatic options at its disposal. Already on October 1, Russian President Vladimir Putin summoned his inner circle to weigh Moscow's options... (more)
RELATED ARTICLES
Russia Says Georgia Sanctions Will Continue
Russia Suspends Transport, Postal Links To Georgia
EU Commissioner Urges Dialogue With Moscow
Ulterior Motives Seen Behind Escalation Of Spy Row
Georgia Turns Russians Over To OSCE
MORE: Coverage of the situation in Georgian from RFE/RL's Georgian Service and in Russian from RFE/RL's Russian Service.
ARCHIVE
RFE/RL's English-language coverage of
Georgia
and
Russia
.