The measures, which come in retaliation for Georgia's detention last week of four Russian officers accused of spying, come despite Tbilisi's decision on October 2 to release the men to Russian custody.
Speaking today at a news conference in Moscow, Russian Foreign Minister Sergei Lavrov said the economic sanctions were justified.
"The measures that have been taken to restrict transport and postal links [with Georgia] are intended to stop the illegal money flows moving from Russia to Georgia in large quantities," Lavrov said.
Many Georgians working in Russia also face the threat of deportation. On October 2, the Federal Migration Service in Moscow detained 13 Georgian illegal immigrants.
Lavrov also said he was concerned by what he called Georgia's "universal militarization" and that the sanctions wouldn't be lifted for the time being.
And speaking today to journalists in Moscow, Russian State Duma speaker Boris Gryzlov said Russia wasn't targeting the Georgian people, but rather the "regime" of Georgian President Mikheil Saakashvili.
There have been no flights today connecting Russia and Georgia. Russia's chief carrier, Aeroflot, announced it was canceling all flights through the end of October.
Transit by train, car, and boat has also been blocked.
Georgians Working In Russia Hit
Even more worrisome for Georgians is Moscow's threat to block money transfers from Georgians living and working in Russia to relatives back home. Later this week, Russian lawmakers will discuss a bill that could prevent Georgians from wiring money home.
Up to 1.5 million ethnic Georgians, both Russian and Georgian citizens, live and work in Russia. Only around 10,000 of them are legally registered.
Russian and Georgian officials disagree on how much money Georgian expatriates send home. Moscow says the figure could be up to $2 billion -- illicit earnings that bring no tax revenues to Russian coffers.
But Tbilisi says that is an exaggeration. Georgia's national bank recently said that in the first eight months of this year Georgians transferred $219 million back home.
Many Georgians working in Russia also face the threat of deportation. On October 2, the Federal Migration Service in Moscow detained 13 Georgian illegal immigrants.
This isn't the first time this year that Georgia has suffered because of Russian economic sanctions.
In spring 2006, Russia banned imports of wine, mineral water, and agricultural produce. Russia said there were health concerns with the products. Georgia said the reasons were political.
Worsening Relations
Russia's relations with Georgia have deteriorated since Georgian President Mikheil Saakashvili came into power in 2003.
The Georgian government has accused Russia of backing separatists in its two breakaway regions, the frozen conflicts of South Ossetia and Abkhazia.
For its part, Russia is angry at Georgia's attempts to leave its orbit and join NATO.
The EU has tried to calm the situation. EU External Relations Commissioner Benita Ferrero-Waldner said today she hopes Russia will lift the sanctions shortly.
For now, Georgia can seemingly do little but sit the current crisis out. Speaking on October 2, parliament speaker Nino Burdjanadze said Georgia would fight the sanctions.
"Georgia will for sure resist this blockade, but this is not the way that civilized countries should talk to each other," Burdjanadze said.
(RFE/RL's Georgian Service contributed to this report)
Moscow And Tbilisi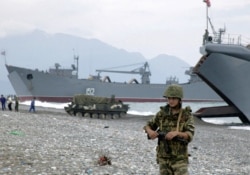 Russian military hardware being withdrawn from a Russian base in Batumi, Georgia, in August 2005 (TASS)

WHAT COMES NEXT? Although Russia is unlikely to push an aggressive military response to the current tensions with Georgia, it has a number of economic, political, and diplomatic options at its disposal. Already on October 1, Russian President Vladimir Putin summoned his inner circle to weigh Moscow's options... (more)
RELATED ARTICLES
Russia Says Georgia Sanctions Will Continue
Russia Suspends Transport, Postal Links To Georgia
EU Commissioner Urges Dialogue With Moscow
Ulterior Motives Seen Behind Escalation Of Spy Row
Georgia Turns Russians Over To OSCE
MORE: Coverage of the situation in Georgian from RFE/RL's Georgian Service and in Russian from RFE/RL's Russian Service.
ARCHIVE
RFE/RL's English-language coverage of
Georgia
and
Russia
.