The checks came as Russia severed all transport and postal links with Georgia amid a spying row.
On October 2, Georgia handed back four Russian soldiers accused of spying, but Russia is nevertheless proceeding with the sanctions.
Andrei Kokoshin, the head of the Duma's CIS Relations Committee, said the lower house of parliament today will pass a statement denouncing the Georgian government's "anti-Russian" policies.
"[The statement] expresses concern over [Georgia's] policy of violating human rights and basic democratic freedoms and, of course, the provocative actions against Russian peacekeepers and military personnel," Kokoshin said.
The Russian parliament is also expected to pass a bill that could ban Georgians working in Russia from wiring money home.
Russia says hundreds of millions of dollars are transferred from Russia to Georgia each year.
(compiled from agency reports)
Moscow And Tbilisi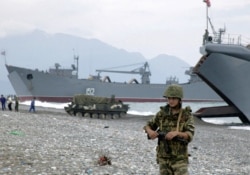 Russian military hardware being withdrawn from a Russian base in Batumi, Georgia, in August 2005 (TASS)

WHAT COMES NEXT? Although Russia is unlikely to push an aggressive military response to the current tensions with Georgia, it has a number of economic, political, and diplomatic options at its disposal. Already on October 1, Russian President Vladimir Putin summoned his inner circle to weigh Moscow's options... (more)
RELATED ARTICLES
Russia Says Georgia Sanctions Will Continue
Russia Suspends Transport, Postal Links To Georgia
EU Commissioner Urges Dialogue With Moscow
Ulterior Motives Seen Behind Escalation Of Spy Row
Georgia Turns Russians Over To OSCE
MORE: Coverage of the situation in Georgian from RFE/RL's Georgian Service and in Russian from RFE/RL's Russian Service.
ARCHIVE
RFE/RL's English-language coverage of
Georgia
and
Russia
.