At the beginning of the year, both U.S. President George W. Bush and Russian President Vladimir Putin repeatedly spoke of their joint determination to speed up Russia's admission to the organization. However, by March Putin was accusing the United States of intentionally trying to stall Russia's WTO bid by renewing demands on Russia that had already been worked out.
The United States has rejected this, saying that Russia is being held to the same standard as all WTO candidates.
In particular, the United States is demanding from Russia:
Access to the Russian market for subsidiaries of foreign banks and insurance companies
The reduction of import duties on aircraft and aircraft engines
Tougher legislation on the protection of intellectual property
The lifting of quotas on the importation into Russia of poultry and meat products
The reduction of the number of agricultural goods requiring sanitary-inspection certificates
In addition, the U.S. Department of Commerce upped the ante by including the liberalization of Russia's telecommunications and forestry sectors on its list of requirements issued on March 31.
Alleged Political Reasons
Some Russian commentators have responded by saying political reasons lie behind the reputed U.S. attempts to stymie Russia's WTO accession. For example, pro-Kremlin TV-Tsentr political analyst Aleksei Pushkov said on 15 April that the United States is irritated because "Moscow is playing the role of Teheran's advocate," and because it is not supporting U.S. calls for sanctions against Iran.
Both U.S. and Russian officials involved in the WTO negotiations have denied that politics have played a role in the talks, but some U.S. congressmen have made no secret that Russia's undemocratic trends and friction in bilateral relations of late are affecting their willingness to back Moscow's accession to the WTO.
Speaking in Moscow following his WTO talks with Russian Foreign Minister Sergei Lavrov, U.S. Senate Majority Leader Bill Frist (Republican, Tennessee) said on April 11 that Russia's disregard for the rule of law, human rights, and democratic practices are influencing the position of the United States. He also noted the major role the U.S. Congress has in determining whether Russia will be admitted to the WTO.
Moscow is also increasingly annoyed that at the same time the United States is perceived to be hampering Russia's WTO bid, Washington is enthusiastically supporting Ukraine's accession to the organization.
A Ukraine-Russia WTO Race?
In February, the United States granted Ukraine market-economy status. A month later, President Bush endorsed Ukraine's accession to the WTO and permanently exempted the country from Cold War-era trade restrictions under the Jackson-Vanik Amendment.
This served to fuel Moscow's suspicions that the United States wants to see Ukraine join the WTO ahead of Russia.
Subsequently, Moscow initiated trade measures against Ukraine, Georgia, and Moldova -- all of which are considered to have reservations about Russia being granted immediate entry to the WTO:
In February, Moscow banned dairy and meat imports from Ukraine
In March, Moldovan wine imports were prohibited
In April, wine and some agricultural products imported from Georgia were embargoed, and some mineral water was confiscated as a wider ban was threatened
In addition, Moscow has signaled to the United States that delaying its accession to the WTO could jeopardize potential U.S. investments in the Shtokman natural-gas project in the Barents Sea, other energy projects, and reported plans by U.S. automakers to set up assembly plants in Russia
The WTO stalemate has apparently rallied the opponents of WTO membership within Russia. For example, Moscow Mayor Yury Luzhkov was quoted by TV-Tsentr on 15 April as saying: "Frankly speaking, I -- someone who is very skeptical about the U.S. -- am thankful to it for blocking our admission to the WTO." This was followed by Duma Speaker Boris Gryzlov comments the next day in which he said Russia might postpone its WTO bid indefinitely, RTR reported.
Benefits For Russia
However, such sentiments cannot conceal the benefits Russia stands to gain by joining the 149-country trade bloc.
Maksim Medvedkov, the chief Russian WTO negotiator, during an appearance on the NTV talk show "National Interest" outlined some of the advantages of joining the organization:
Free access for Russian products to the global market
Participation in the formulation of international trade regulations
Access to international arbitration bodies in settling trade disputes
A more favorable investment climate.
Strategically, he argued, such benefits will in the end likely outweigh the losses that less competitive Russian sectors -- including aviation and automotive manufacturing, food production, and textile and agriculture -- stand to suffer in the face of open competition upon WTO accession.
Medvedkov also said Russia should do more in terms of protecting intellectual property rights, as demanded by the United States. Speaking on the same show, Mosfilm General Director and noted filmmaker Karen Shakhnazarov shared his own experiences with pirated versions of his own work. He revealed that he was recently given a counterfeit DVD containing seven of his films that was purchased for a mere 148 rubles ($5.30).
Shakhnazarov suggested that the stricter protection of intellectual property in Russia could also help prevent the piracy of Russian multimedia products abroad. "In the West the cost of multimedia products is higher and, therefore, the losses incurred [by Russia] due to piracy are bigger," he explained.
WTO Status Of RFE/RL Broadcast Countries
WTO Status Of RFE/RL Broadcast Countries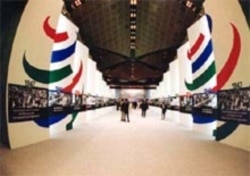 An exhibition of the history of the WTO in Singapore in 1996 (courtesy photo)

WTO Members:
Armenia: Joined on 5 February 2003.
Croatia: Joined on 30 November 2000.
Georgia: Joined on 14 June 2000.
Kyrgyzstan: Joined on 20 December 1998.
Macedonia: Joined on 4 April 2003.
Moldova: Joined on 26 July 2001.
Romania: Joined on 1 January 1995.
Countries That Are Not Yet WTO Members:
Afghanistan: Submitted its application in November 2004.
Azerbaijan: Submitted its application in June 1997.
Bosnia-Herezgovina: Submitted its application in May 1999.
Belarus: Submitted its application in September 1993.
Iran: Submitted its application in July 1996.
Iraq: Submitted its application in September 2004.
Kazakhstan: Submitted its application in January 1996.
Russia: Submitted its application in June 1993.
Serbia and Montenegro: Submitted separate applications in December 2004.
Tajikistan: Submitted its application in May 2001.
Ukraine: Submitted its application in November 1993.
Uzbekistan: Submitted its application in December 1994.
For more information, click here.
For an exclusive RFE/RL interview with former WTO head MICHAEL MOORE,click here.