PRAGUE, March 30, 2006 (RFE/RL) -- On March 29, Putin told Russian business leaders that the United States has put forward additional conditions for Russia's WTO membership.
"Unfortunately, we have received from our American colleagues a list demanding additional agreements, which we considered settled long ago. This artificially pushes us back in the negotiation process," Putin said.
Putin did not specify what those U.S. demands were.
The same day, U.S. Trade Representative Rob Portman disputed Putin's statement saying that "the remaining issues with Russia's accession...are not new problems."
He said that Russia must live up to the rules and obligations, which all WTO members accept, "whether it is customs regulation or greater protection for intellectual property rights."
And the United States today rejected the assertion that it is attempting to delay Russia's application. Speaking to reporters on her way to Berlin, U.S. Secretary of State Condoleezza Rice said it was not an issue of impeding but an issue of negotiation.
Continuing Negotiations
Russia, the largest economy outside the WTO, has been negotiating its membership since 1994. It has implemented legislative reforms to fall in line with WTO rules, including a new customs code. Moscow has signed agreements with the European Union, China, and Japan. It has not yet reached deals with the United States, Australia, and Colombia.
Moscow's talks with Washington on WTO membership have previously stumbled over U.S. demands that Russia open up its financial sector to foreign banks. Washington also has concerns about Russia's video and software piracy and agricultural imports.
It is not the first time that Moscow has accused the United States of obstructing its application to join the trade organization.
Earlier this month, Russian Foreign Minister Sergei Lavrov told the Moscow daily "Vremya novostei" that the United States is holding up Russia's membership in the WTO for unspecified political reasons.
Lavrov said that the United States is treating Ukraine more favorably than Russia in regard to joining the WTO. The U.S. House of Representatives voted recently to repeal the Jackson-Vanik amendment, which restricts trade with respect to Ukraine. The measure, however, remains in force for Russia.
Ukraine's WTO Application
Aleksei Makarkin of the Center for Political Technologies, a Moscow-based think tank, says that the United States is acting on political not economic grounds. He says Ukraine has done very little to be fit to join the WTO.
"No doubt there is a political aspect to that. The United States has given a 'green light' to Ukraine when it is completely clear that according to many parameters Ukraine is not ready to join the WTO," Makarkin said. "The former Ukrainian parliament has stubbornly blocked changing Ukrainian laws required for membership."
Makarkin says Russia is further ahead in meeting WTO standards than Ukraine. He says the United States clearly wants to reward pro-Western Ukrainian leaders with WTO membership.
But Nicholas Redman, a Russia analyst with the Economist Intelligence Unit, says the essence of the argument is economic. He says both Russia and the United States are seeking the most favorable agreements.
"I don't think it's a case of political problems. The Russians are really not willing to give away the shop in order to get into the WTO," Redman said. "It's very much a case of the right terms. That's been the consistent position. The Putin comments are a measure of frustration over the fact that Russia's negotiating partners, now principally the Americans, have been every bit as tough as the Russians have in those negotiations and so maybe the progress he was hoping for hasn't happened as a result of that. The other problem with the WTO is, of course -- nothing's decided until everything's decided."
Some Russian officials are confident though that the talks will be wrapped up sooner rather than later. Russia's Economic Development and Trade Minister German Gref told Interfax news agency today that "tense negotiations are under way" and the remaining questions will be settled in a "maximum of a month and a half."
WTO Status Of RFE/RL Broadcast Countries
WTO Status Of RFE/RL Broadcast Countries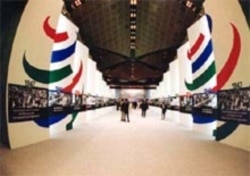 An exhibition of the history of the WTO in Singapore in 1996 (courtesy photo)

WTO Members:
Armenia: Joined on 5 February 2003.
Croatia: Joined on 30 November 2000.
Georgia: Joined on 14 June 2000.
Kyrgyzstan: Joined on 20 December 1998.
Macedonia: Joined on 4 April 2003.
Moldova: Joined on 26 July 2001.
Romania: Joined on 1 January 1995.
Countries That Are Not Yet WTO Members:
Afghanistan: Submitted its application in November 2004.
Azerbaijan: Submitted its application in June 1997.
Bosnia-Herezgovina: Submitted its application in May 1999.
Belarus: Submitted its application in September 1993.
Iran: Submitted its application in July 1996.
Iraq: Submitted its application in September 2004.
Kazakhstan: Submitted its application in January 1996.
Russia: Submitted its application in June 1993.
Serbia and Montenegro: Submitted separate applications in December 2004.
Tajikistan: Submitted its application in May 2001.
Ukraine: Submitted its application in November 1993.
Uzbekistan: Submitted its application in December 1994.
For more information, click here.
For an exclusive RFE/RL interview with former WTO head MICHAEL MOORE,click here.