PRAGUE, March 31, 2006 (RFE/RL) -- A flash of anger at Georgia's and Moldava's reluctance to endorse Russia's membership of the World Trade Organization (WTO) or genuine concern for the health of Russian consumers?

A big question mark hangs over the decision of Russia this week to ban the import of Georgian and Moldovan wines on the grounds that they don't meet internationally accepted safety standards.

Whatever the case, the decision could both seriously damage the Georgian and Moldovan economies and Russia's international reputation.

The response in Georgia and Moldova has been angry and indignant. The speaker of the Georgian parliament, Nino Burjanadze, today condemned the decision as unacceptable.

"If we don't get a good explanation as to why this decision was taken on the import of Georgian wines into Russia -- and we don't expect to get one -- we will take this as an attempt to use political levers against Georgia and as a declaration of a political and economic blockade against Georgia," Burjanadze said. "We would really prefer not to speak to each other in this tone and are deliberately holding back from making an evaluation of what is going on, although we do expect -- and in the shortest possible time -- a proper explanation and an objective decision on this matter."

Wine Market
Harsh words but then much is at stake. Wine exports brought Georgia $60 million last year and almost 90 percent of that came from sales to the Russian market.

Step into any Russian supermarket and you see row after row of Georgian wines. Levan Gachechiladze, is the founder of Georgian Wines and Spirits, one of the biggest and most successful wine companies in Georgia.
"This will be very painful for Georgia and not just for the wine companies but for the farmers who grow the grapes and who sell them to the companies. I can say that hundreds of thousands of people will be left out of work," Gachechiladze said.


In Moldova, too, which reported today that Russia has already begun to block its wines. Dumitru Diacov, the leader of the opposition Democratic Party, says this is a very serious problem.
"There are more than 200,000 people who work in the wine-producing sector, and who now are unemployed. No wine-producing unit is currently working," Diacov says. "I know that there is a petition lodged by wine producers in the parliament in which they demand a committee be formed to examine the current situation."

Health Concerns
So what prompted the Russian decision?

On the surface, things appear simple. On March 25, Russia's chief sanitary inspector, Gennady Onishchenko, sent a letter to the head of the Russian Customs Service recommending a ban on the import of Georgian and Moldovan wines. He said that 60 percent of them do not meet the sanitary-epidemiological standards set by Russia. In particular, Onishchenko said they contained too unacceptably high levels of pesticides and heavy metals.

That, say the Georgians and the Moldovans, is nonsense. Both also export their wines to the European Union and the United States without any problems.

Gachechiladze concedes that there are many counterfeit Georgian wines on the Russian market that do not meet health-safety standards. However, these wines, he says, are nearly all produced within Russia itself.
"There are wines which have Georgian names but which are falsified Georgian wines and which have been on the Russian market for many years," Gachechiladze says. "Of course, it shouldn't be possible to buy this wine on the Russian market but to use it as a reason to say Georgian wine as a whole does not meet standards is absurd and, in my opinion, more of a political reason."


He also points out that the Georgian government has been appealing to the Russians for many years to clamp down on the practice of falsification.
The Georgians suspect that Moscow is making it pay the price for refusing to support Russia's application for membership of the WTO. Tbilisi says it won't do so unless Russia agrees to a number of key conditions, including the restoration of Georgian control over the Roki Tunnel, which links breakaway South Ossetia with Russia.
Moldova is also withholding support -- partly on the grounds that Russia is also blocking the import of its agricultural and animal products.
Both held talks with Russia on its accession bid in Geneva last week, but failed to reach agreement. Ironically, one of the demands made by the Georgian side was that Russia intensifies its fight against falsified Georgian products.
Russia's apparent readiness to use trade as a weapon of foreign policy -- and so soon after January's gas price war with Ukraine -- is unlikely to do its case for acceptance into the WTO much good.
Yet, as WTO spokesman Keith Rickweel suggests, there may be good reason for countries like Georgia and Moldova to accept Russian membership: "On the question of wine, meat, and vegetables, Moldova is not alone in seeking greater access to the Russian market. Other countries, including European countries, Australia, New Zealand, and the United States will be seeking similar sorts of access. The way the system works is that whatever is achieved by those countries, those benefits would also accrue to Moldova under what we call the most-favored -nation principle."
The immediate reality though is that Russia's action could have a devastating affect on the struggling Georgian and Moldovan economies, both of which are heavily dependent on agriculture.
WTO Status Of RFE/RL Broadcast Countries
WTO Status Of RFE/RL Broadcast Countries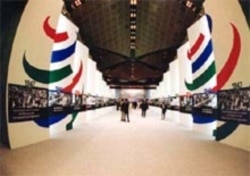 An exhibition of the history of the WTO in Singapore in 1996 (courtesy photo)

WTO Members:
Armenia: Joined on 5 February 2003.
Croatia: Joined on 30 November 2000.
Georgia: Joined on 14 June 2000.
Kyrgyzstan: Joined on 20 December 1998.
Macedonia: Joined on 4 April 2003.
Moldova: Joined on 26 July 2001.
Romania: Joined on 1 January 1995.
Countries That Are Not Yet WTO Members:
Afghanistan: Submitted its application in November 2004.
Azerbaijan: Submitted its application in June 1997.
Bosnia-Herezgovina: Submitted its application in May 1999.
Belarus: Submitted its application in September 1993.
Iran: Submitted its application in July 1996.
Iraq: Submitted its application in September 2004.
Kazakhstan: Submitted its application in January 1996.
Russia: Submitted its application in June 1993.
Serbia and Montenegro: Submitted separate applications in December 2004.
Tajikistan: Submitted its application in May 2001.
Ukraine: Submitted its application in November 1993.
Uzbekistan: Submitted its application in December 1994.
For more information, click here.
For an exclusive RFE/RL interview with former WTO head MICHAEL MOORE,click here.