Solana also said the European Union could not meet a request made by Georgian President Mikheil Saakashvili for peacekeepers, but that Brussels is actively trying to "build confidence" between Moscow and Tbilisi.
Solana told the European Parliament's Foreign Affairs Committee in Brussels today that during a recent phone conversation, Saakashvili had confessed to "tremendous worry" about the possible consequences that ongoing UN-sponsored Kosovo status talks could have for Georgia.
'We Are All Trapped'
The Serbian province is seeking independence for its 2 million citizens, over 90 percent of whom are ethnic Albanians. Belgrade is staunchly opposed, but international negotiations -- begun earlier this year -- seem destined to end in eventual independence.
Solana indicated that he, too, considers it possible that independence for Kosovo could have a negative effect on Georgia's territorial integrity, acknowledging it would set a "precedent."
"We are trapped here," he said. "President Saakashvili is trapped, all of us are trapped in a double mechanism that may have good consequences for one, but not for the other. It may not be a win-win situation -- although we should be able to look [for] and find a win-win solution. But it will not be easy."
The United States and the European Union both expect that Kosovo will achieve independence. Russia has warned that if Kosovo becomes independent, it will push for the secession of South Ossetia and Abkhazia.
Tensions between Russia and Georgia are running high. Moscow has blocked all transportation and postal links between the two countries in a continuing dispute over Tbilisi's arrest on September 27 of four Russian military officers on spying charges.
Solana also said today he himself is worried about "the manner in which Saakashvili is concerned about" the issue, but did not elaborate.
Solana said the EU will continue to stand up for Georgia's territorial integrity.

Searching For Way Forward
Solana said Saakashvili had also "complained" about the format of the negotiations it is currently involved in with South Ossetia -- where it is faced by Russia and its autonomous area of North Ossetia alongside South Ossetia.
According to Solana, Saakashvili would prefer the format used in Moldova for talks with Transdniester, where the European Union and the United States participate as observers, and Ukraine is also a participant.
But, Solana said, "for the moment it is difficult to do that," adding that the talks framework for Moldova "is not working very well either."
EU Peacekeepers Not An Option
Responding to a question by Estonian deputy Toomas Hendrik Ilves suggesting the EU send peacekeepers to Georgia, Solana also said Saakashvili had made that request during their conversation.
However, Solana said no. He said today it would be a "very difficult decision" for the EU, and that the EU could not respond positively "at the moment." France, Germany, Italy, and a number of other EU member states have long blocked moves to send EU monitors to Georgia's borders, in fear of angering Russia.
Solana noted that sending EU peacekeepers might not be "the best solution" for Georgia in any case. "I mean, for the moment, we have to see what is the best solution for the security of Georgia," he said. "[It] may not be peacekeepers, [it] may be something different. But I think to begin committing European peacekeepers there is something that I would not do at this moment. I said what I told you, I told him [Saakashvili]."
The EU foreign-policy chief did not specify what alternative solutions he might have in mind. He did say the EU would continue talking to both Moscow and Tbilisi about the crisis, in a bid to restore confidence.
Moscow And Tbilisi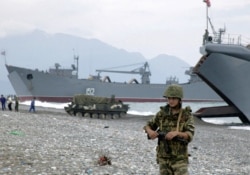 Russian military hardware being withdrawn from a Russian base in Batumi, Georgia, in August 2005 (TASS)

WHAT COMES NEXT? Although Russia is unlikely to push an aggressive military response to the current tensions with Georgia, it has a number of economic, political, and diplomatic options at its disposal. Already on October 1, Russian President Vladimir Putin summoned his inner circle to weigh Moscow's options... (more)
RELATED ARTICLES
Russia Says Georgia Sanctions Will Continue
Russia Suspends Transport, Postal Links To Georgia
EU Commissioner Urges Dialogue With Moscow
Ulterior Motives Seen Behind Escalation Of Spy Row
Georgia Turns Russians Over To OSCE
MORE: Coverage of the situation in Georgian from RFE/RL's Georgian Service and in Russian from RFE/RL's Russian Service.
ARCHIVE
RFE/RL's English-language coverage of
Georgia
and
Russia
.