Putin discussed with lawmakers the arrest last week of four Russian soldiers on spying charges.
The lower house of parliament, the State Duma, today overwhelmingly passed a nonbinding resolution that said Russia would be entitled to take even "tougher measures" if the Georgian government continued its "anti-Russian" policies.
Putin told the lawmakers in reference to Georgia that he "wouldn't advise anyone to talk to Russia in a language of provocation and blackmail."
Duma Speaker Boris Gryzlov assured Putin that "we have agreed that changes will be proposed to the law that ensures Russian national security, giving the president the right to introduce certain restrictions against countries and territories that present a threat to Russia's national security."

Despite the soldiers' release on October 2, Russia severed all transport and postal links with Georgia.
Police Crackdown On Georgians

Police, meanwhile, began sweeping checks on Georgian-linked businesses and Georgians living in Russia.
Authorities closed a Georgian-owned casino in Moscow and raided several other businesses, and said they uncovered a large number of fake visas for Georgian immigrants.
"This gives us one more reason to reexamine the gambling problem as a whole," Putin said. "Like alcoholism among the population, it causes us serious moral, and sometimes material, damages."

Also, Russian Defense Minister Sergei Ivanov said today the Russian Navy will continue a training exercise in the Black Sea, ignoring complaints from Georgia.
Ivanov, on a visit to Kyrgyzstan, said Russia would not change its plans "every time [President Mikheil] Saakashvili's regime sneezes."
Georgia has called the Russian exercises a threat to security and a breach of the United Nations Charter.
Georgian Officials Defiant

Meanwhile, Georgian officials have remained defiant today in the face of the tough measures imposed by Russia.

Prime Minister Zurab Noghaideli said the sanctions will not significantly affect the Georgian economy.

National Bank President Roman Gotsiridze said Georgia will block Russia's bid to join the World Trade Organization (WTO) as long as Moscow's sanctions remained in place.

(compiled from agency reports)
Russia And Georgia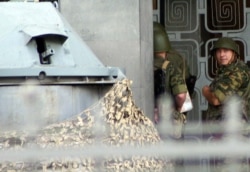 Beefed up security outside Russian military headquarters in Tbilisi on September 27 (InterPressNews)
NOT ALL WINE AND ROSES.
Moscow's relations with Tbilisi since the collapse of the Soviet Union have often been tense and strained. Among the issues that have made the relationship difficult are Moscow's alleged support for the breakaway Georgia regions of Abkhazia and South Ossetia, as well as the continued presence of Russia troops on Georgian territory. Periodically, Georgian lawmakers propose withdrawing from the Commonwealth of Independent States (CIS) altogether. RFE/RL has written extensively about the rocky relationship between these two countries.
RELATED ARTICLES
Saakashvili Seeks Meeting With Putin
Russian-Georgian Friendship Still Warm, Despite Frosty Politics
Georgia To Assess Repercussions Of Quitting CIS
Russia Impounds Georgian Mineral Water
Georgian Agriculture Minister In Moscow For Talks On Wine Ban
Russia Pledges To Complete Georgia Pullout On Schedule
ARCHIVE
RFE/RL's complete coverage of
Georgia
and
Russia
.