Russian military base No. 12, which was established as the headquarters of the Red Army's Transcaucasus forces during the Soviet era, is soon to be evacuated in accordance with an agreement that goes into effect today.
By the end of 2008, the base will be completely closed.
Time Of Crisis
The changes come as Russian and Georgia engage in a heated dispute triggered by Georgia's arrest of four Russian soldiers on espionage charges in late September. The incident brought to the surface a number of simmering issues -- including the presence of Russian peacekeepers in Georgia's breakaway regions of South Ossetia and Abkhazia.
In the first days of the crisis, Russia suspended its planned withdrawal of troops in Georgia, but later recanted.
One Russian soldier manning the gate to the facility initially appears to be talkative about his service at base No. 12. He says privately that he has been stationed in Batumi for five months and will remain in Georgia for another seven months.
But when asked to put his comments on record, he quickly ends the conversation and closes the gate, saying "I haven't been here long."
Slated For Evacuation
Locals, however, have no such reservations about discussing the base.
A merchant who identified himself only as "Mr. Karlo" runs a small kiosk located just 10 meters from the entrance to base No. 12. The location places him in a unique position to observe the daily goings-on at the imposing structure.
"It is no longer a base. Only several soldiers are left, who will stay only until the territory is handed over. Several officers with families," Karlo said. "They were supposed to empty the territory, and move to Khelvachauri by the end of September. But they are still here."
That is expected to change under the terms of the new deal, which was worked out by Russian and Georgian negotiators in Sochi in late March and ratified by the Russian State Duma on October 6.
The agreement sets the terms of operation of Russian military bases and facilities in Russia, and the transit of Russian armaments across Georgian soil.
It dictates that Russian soldiers serving at base No. 12 evacuate the base and move to another Russian facility in nearby Khelvachauri before eventually being relocated to a base in Gyumri, Armenia.
Home Away From Home
Karlo says that despite the recent tension between Georgia and Russia, the local population has good relations with the soldiers who serve in Batumi.
"We help them, give them things that they pay for in installments," Karlo said. "We have good relations, but the soldiers are somewhat... when they first arrived here, they would not receive salaries for the whole year, and were dependent on us for bread and other things. They would come and ask me for a shot of vodka -- 'Give me 100 grams of vodka, uncle Karlo.' This is how they were. Now they have cars and money, and no longer communicate with us. However, nobody is going to insult them in any way. And they also do not behave in a provocative manner."
Others who live nearby reveal that the families staying at the Russian base did not mingle with the local population.
"I have never been there, and have never had any relations with them," said one woman. "I do not know who they are, be it officers' wives or else. We have never had any relations."
Name Of The Game
As always, it is the children who have established relations untainted by the adult game of politics and prejudice.
One Georgian boy says he and his friends often play soccer with the sons of Russian soldiers at a playing field located on the base.
"There is a field there, and we play," he said. "Sometimes he wins, sometimes I win."
Moscow And Tbilisi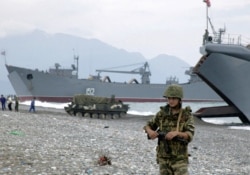 Russian military hardware being withdrawn from a Russian base in Batumi, Georgia, in August 2005 (TASS)

WHAT COMES NEXT? Although Russia is unlikely to push an aggressive military response to the current tensions with Georgia, it has a number of economic, political, and diplomatic options at its disposal. Already on October 1, Russian President Vladimir Putin summoned his inner circle to weigh Moscow's options... (more)
RELATED ARTICLES
Russia Says Georgia Sanctions Will Continue
Russia Suspends Transport, Postal Links To Georgia
EU Commissioner Urges Dialogue With Moscow
Ulterior Motives Seen Behind Escalation Of Spy Row
Georgia Turns Russians Over To OSCE
MORE: Coverage of the situation in Georgian from RFE/RL's Georgian Service and in Russian from RFE/RL's Russian Service.
ARCHIVE
RFE/RL's English-language coverage of
Georgia
and
Russia
.