Moscow Suspends Georgia Troop Pullout
Russian Embassy personnel preparing to evacuate from Tbilisi on September 29 (ITAR-TASS) PRAGUE, September 30, 2006 (RFE/RL) -- Russia said today it has temporarily suspended a pullout of its troops from two Russian bases in Georgia until the security situation has returned to normal. Russia made the announcement as most of its diplomatic staff prepared to leave Georgia.
The latest crisis in Georgian-Russian relations was sparked by the arrest this week in Tbilisi of four Russian military officers on spy charges.
General Aleksandr Baranov, the Russian commander of the North Caucasus military district, said an ongoing troop pullout from Russia's two Soviet-era military bases in Georgia has been suspended. He said the troops' security could not be fully guaranteed as they crossed Georgian territory.
"The pullout of troops from the Republic of Georgia planned for this year has been suspended," Baranov said. "We believe the recent incidents contradict all the norms of cooperation between the armed forces on the territory of Georgia. They are not in line with any of the agreements on the situation and activities of troops based on the Georgian territory. To be frank, I can say that they resulted from actions and decisions made by the two hawkish ministers --the minister of defense and the minister of the interior."
Embassy Evacuated
In contrast, Moscow has already flown home more than 80 embassy staff from Tbilisi.
An embassy spokesman says only two Foreign Ministry officials and security guards will remain at the embassy in the Georgian capital. The others are expected to be flown back to Moscow later today.
Both NATO and the United States have called on Russia and Georgia to ease tensions following the arrest this week in Tbilisi of four Russian military officers on espionage charges.
Russia has called the arrests unacceptable and called on the UN Security Council formally to censure Georgia for its conduct.
But U.S. State Department spokesman Sean McCormack, speaking on September 29 in Washington, said the United States does not believe the issue requires the attention of the United Nations and that the two sides should resolve it themselves.
McCormack was also asked by reporters about the perception of some observers that the United States has had something to do with events in Georgia.
U.S. Denies Involvement
"Georgia is a sovereign state," McCormack said. "The Georgian government makes its own decisions based on the -- its assessment of what is right for Georgia and the Georgian people. We are friends of the Georgian people; we are friends of the Georgian government. We are friends of the Russian people, and we're friends of the Russian government. So I know, I've heard news reports of all the -- you know, various conspiracy theories involving the United States and the 'hidden hand' of the United States. Just frankly not true. These are two sovereign states. We would encourage them to work out their differences as any two neighbors would."
Georgian police today continued to surround the four-story building of the Russian Army headquarters in Tbilisi, where a fifth Russian officer sought on spying charges was believed to be hiding.
Soured Relations
Georgia's relations with Russia have soured after President Mikhail Saakashvili came to power in the so-called Rose Revolution in 2003 with promises of closer ties with the United States and European Union, and a drive to join NATO.
The U.S.-educated Saakashvili spoke to reporters about the crisis on September 29 at a copper mine south of Tbilisi.
"We are acting based on our laws and on international accepted practice," Saakashvili said. "Georgia has no intention whatsoever to cause escalation. The purpose, goals we were pursuing was to eradicate this kind of subversive and espionage activities in Georgia, and I think this has been more or less achieved. Otherwise, we will act what is according to international practice and international legal norms."
Since Saakashvili came to power, there has been a recurring war of words between the two sides, often over the breakaway regions in Georgia of South Ossetia and Abkhazia, where separatist administrations say they want to secede to Russia.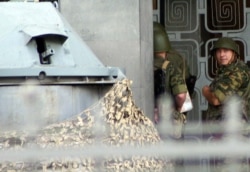 Beefed up security outside Russian military headquarters in Tbilisi on September 27 (InterPressNews)
NOT ALL WINE AND ROSES.
Moscow's relations with Tbilisi since the collapse of the Soviet Union have often been tense and strained. Among the issues that have made the relationship difficult are Moscow's alleged support for the breakaway Georgia regions of Abkhazia and South Ossetia, as well as the continued presence of Russia troops on Georgian territory. Periodically, Georgian lawmakers propose withdrawing from the Commonwealth of Independent States (CIS) altogether. RFE/RL has written extensively about the rocky relationship between these two countries.
RELATED ARTICLES
Saakashvili Seeks Meeting With Putin
Russian-Georgian Friendship Still Warm, Despite Frosty Politics
Georgia To Assess Repercussions Of Quitting CIS
Russia Impounds Georgian Mineral Water
Georgian Agriculture Minister In Moscow For Talks On Wine Ban
Russia Pledges To Complete Georgia Pullout On Schedule
ARCHIVE
RFE/RL's complete coverage of
Georgia
and
Russia
.