Georgian Interior Minister Vano Merabishvili said his country's authorities had proof the officers were part of a spy network enlisting Georgian citizens to obtain secret information.
In response, Russia has recalled its ambassador from Georgia and called on the UN Security Council to condemn Georgia for what it describes as "dangerous and unacceptable" actions.
The arrest has escalated the already strained relations between the two neighboring countries.
Speaking to Russian television yesterday, Russian Defense Minister Sergei Ivanov compared the officers' arrest to Stalinist repressions.
'Unacceptable And Dangerous'
Russia's ambassador to the United Nations, Vitaly Churkin, joined the chorus of criticism by slamming Georgia's actions as "unacceptable and dangerous."
Speaking to reporters last night after an emergency meeting of the UN Security Council initiated by Russia, he urged members to demand that Tbilisi refrain from actions that could imperil peace in the region.
"The message we conveyed to the Security Council today was not just a message of complaining about the current situation and expressing our concern, but also calling on them, on the Security Council, on the international community, to exercise restraint on the Georgian authorities, because we don't want the situation in that troubled part of the world to further deteriorate," Churkin said.
Frozen Conflicts
Underlying the spy scandal, is the issue of Georgia's "frozen conflicts," Abkhazia and South Ossetia.
Churkin said he had asked for a briefing from UN officials today on Abkhazia, where the United Nations has stationed monitors.
Moscow has been supporting Abkhazia since the province won effective independence from Georgia in 1993 after two years of fighting.
Georgia accuses Russia of backing separatist forces in the region, a claim Moscow denies.
'Hysteria'
Speaking on September 28, in Georgia, President Mikheil Saakashvili, dismissed Russia's accusations as "hysteria."
"Georgia is acting within the framework of agreements and Georgia is abiding by its commitments under these agreements," Saakashvili said. "Georgia is also protecting its laws and wants everybody to respect these laws. The time has come for everybody to remember well that we have an effective state apparatus and we have strong men who deserve gratitude and respect from society."
Despite the growing war of words, Defense Minister Sergei Ivanov has said Russia's reaction to the arrests would be "adequate and sensible."
Ivanov is set to discuss the conflict with NATO defense ministers in Slovenia today. He is likely to express Russia's concern over NATO's decision last week to deepen cooperation with Georgia.
So far, Moscow seems to be attempting to solve the row through negotiations and diplomatic channels.
But Fyodor Lukyanov, editor in chief of the journal "Russia in Global Affairs," told RFE/RL that Russia could well resort to tougher measures should negotiations fail.
"So far [Russia's reaction] is still rather moderate. No irreversible steps have been taken. But the way things are developing is very unpleasant, and if no outside influence is exerted, for instance, on Georgia to make it reduce the tension, Russia's reaction could stop being moderate," Lukyanov said.
Russia And Georgia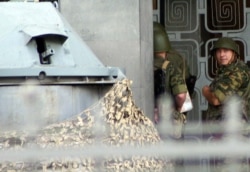 Beefed up security outside Russian military headquarters in Tbilisi on September 27 (InterPressNews)
NOT ALL WINE AND ROSES.
Moscow's relations with Tbilisi since the collapse of the Soviet Union have often been tense and strained. Among the issues that have made the relationship difficult are Moscow's alleged support for the breakaway Georgia regions of Abkhazia and South Ossetia, as well as the continued presence of Russia troops on Georgian territory. Periodically, Georgian lawmakers propose withdrawing from the Commonwealth of Independent States (CIS) altogether. RFE/RL has written extensively about the rocky relationship between these two countries.
RELATED ARTICLES
Saakashvili Seeks Meeting With Putin
Russian-Georgian Friendship Still Warm, Despite Frosty Politics
Georgia To Assess Repercussions Of Quitting CIS
Russia Impounds Georgian Mineral Water
Georgian Agriculture Minister In Moscow For Talks On Wine Ban
Russia Pledges To Complete Georgia Pullout On Schedule
ARCHIVE
RFE/RL's complete coverage of
Georgia
and
Russia
.