The diplomatic crisis between the two former Soviet states was sparked by the arrest of five Russian army intelligence officers on spying charges, one of whom has since been released.
NATO Secretary-General Jaap de Hoop Scheffer was among the first to offer calming words.
He spoke today at a news conference in Slovenia after meeting with Russian Defense Minister Sergei Ivanov at the NATO-Russia Council.
"On my behalf, there was a call for moderation and for de-escalation, and that is relevant for all parties -- that is as relevant for Georgia as it is for our Russian friends -- a general appeal, also from my side, to both sides to moderate and de-escalate the current situation," de Hoop Scheffer said.
European Commission spokeswoman Emma Udwin echoed that sentiment saying that both sides had to avoid actions that could heighten tensions. And U.S. Secretary of Defense Donald Rumsfeld said that the NATO ministers had urged for calm in their meeting with Ivanov.
Court Ruling
A Tbilisi court ruled today that two of the four Russian officers will be remanded in custody for another two months. The court will consider the other two officers' cases later today.
Seven Georgian nationals were also charged with high treason in connection with the case.
And Russia today began airlifting diplomats and their families from Georgia.
Frozen Conflicts
Underlying the spy scandal is the issue of Georgia's "frozen conflicts," Abkhazia and South Ossetia, and Russia's concern over NATO's decision last week to deepen cooperation with Georgia.
Moscow has been supporting Abkhazia since the province won effective independence from Georgia in 1993 after two years of fighting.
Georgia accuses Russia of backing separatist forces in the region, a claim Moscow denies.
Speaking in Slovenia, Russian Defense Minister Sergei Ivanov said that Georgia's arrest of the military officers was connected to its breakaway provinces:
"It is absolutely clear to us that Georgia has chosen a military way of resolving the conflicts in Abkhazia and South Ossetia, and that is where all other [problems] stem from," Ivanov said.
Ivanov also said that "younger NATO members" were supplying Georgia with Soviet-made weapons and ammunition.
Speaking last night, Russia's ambassador to the UN, Vitaly Churkin, said he has asked for a briefing from UN officials on Abkhazia, where the United Nations has stationed monitors.
Abkhaz Accusations
Sergei Shamba, the self-styled foreign minister of the breakaway region of Abkhazia, told RFE/RL's North Caucasus Service today that Georgia is attempting to escalate the situation.
"I'm sure that all these actions are interconnected and well planned. Georgia believes it is necessary to unfreeze the situation and explode it in order to prevent the recognition of Abkhazia following Kosovo's example. This can be done only by exploding the situation," Shamba said. "And the situation can be exploded only by [Georgia] abandoning the negotiation process, by making Russian peacekeepers withdraw, and in general by forcing Russia out of this region."
So far, Moscow seems to be attempting to solve the row through negotiations and diplomatic channels.
But Fyodor Lukyanov, editor in chief of the journal "Russia In Global Affairs," told RFE/RL that Russia could well resort to tougher measures should negotiations fail.
"So far [Russia's reaction] is still rather moderate. No irreversible steps have been taken. But the way things are developing is very unpleasant, and if no outside influence is exerted, for instance, on Georgia to make it reduce the tension, Russia's reaction could stop being moderate," Lukyanov said.
(RFE/RL's Georgian and North Caucasus Services contributed to this story)
Russia And Georgia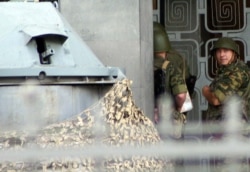 Beefed up security outside Russian military headquarters in Tbilisi on September 27 (InterPressNews)
NOT ALL WINE AND ROSES.
Moscow's relations with Tbilisi since the collapse of the Soviet Union have often been tense and strained. Among the issues that have made the relationship difficult are Moscow's alleged support for the breakaway Georgia regions of Abkhazia and South Ossetia, as well as the continued presence of Russia troops on Georgian territory. Periodically, Georgian lawmakers propose withdrawing from the Commonwealth of Independent States (CIS) altogether. RFE/RL has written extensively about the rocky relationship between these two countries.
RELATED ARTICLES
Saakashvili Seeks Meeting With Putin
Russian-Georgian Friendship Still Warm, Despite Frosty Politics
Georgia To Assess Repercussions Of Quitting CIS
Russia Impounds Georgian Mineral Water
Georgian Agriculture Minister In Moscow For Talks On Wine Ban
Russia Pledges To Complete Georgia Pullout On Schedule
ARCHIVE
RFE/RL's complete coverage of
Georgia
and
Russia
.