De Hoop Scheffer was speaking in Slovenia after NATO defense ministers met with Russian Defense Minister Sergei Ivanov.
Russia has asked the UN Security Council to censure Georgia over the September 27 arrests, calling them "dangerous and unacceptable."
Russia began evacuating personnel today from its embassy in Tbilisi.
But recalled Ambassador to Georgia Vyacheslav Kovalenko said Moscow would send lawyers to Georgia to defend its nationals in court. The four military officers were formally charged today with spying.
In Moscow, demonstrators outside the Georgian Embassy held banners calling for "Freedom for the Russian Officers." Demonstrators also threw a pig's head at a window of the embassy building.
(AFP, dpa. ITAR-TASS)
Russia And Georgia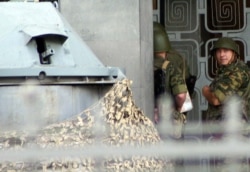 Beefed up security outside Russian military headquarters in Tbilisi on September 27 (InterPressNews)
NOT ALL WINE AND ROSES.
Moscow's relations with Tbilisi since the collapse of the Soviet Union have often been tense and strained. Among the issues that have made the relationship difficult are Moscow's alleged support for the breakaway Georgia regions of Abkhazia and South Ossetia, as well as the continued presence of Russia troops on Georgian territory. Periodically, Georgian lawmakers propose withdrawing from the Commonwealth of Independent States (CIS) altogether. RFE/RL has written extensively about the rocky relationship between these two countries.
RELATED ARTICLES
Saakashvili Seeks Meeting With Putin
Russian-Georgian Friendship Still Warm, Despite Frosty Politics
Georgia To Assess Repercussions Of Quitting CIS
Russia Impounds Georgian Mineral Water
Georgian Agriculture Minister In Moscow For Talks On Wine Ban
Russia Pledges To Complete Georgia Pullout On Schedule
ARCHIVE
RFE/RL's complete coverage of
Georgia
and
Russia
.