EU/Georgia: 'No Time To Send Ambiguous Messages' In Russia Row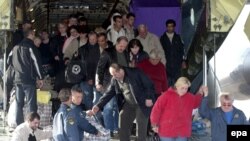 Georgians deported from Russia emerge from a Russian cargo plane on October 6 (epa) BRUSSELS, October 11, 2006 (RFE/RL) -- Georgia's ambassador to the EU, Salome Samadashvili, told RFE/RL correspondent Ahto Lobjakas in an interview on October 10 that Tbilisi wants a clear message of support from the EU foreign ministers meeting in Luxembourg on October 17. Samadashvili told a group of European Parliament deputies earlier the same day that this is "no time to send ambiguous messages" -- a reference to the EU's reluctance so far to criticize Russia for its role in the mounting tensions between the two countries.
RFE/RL:
The EU foreign ministers meeting in Luxembourg on October 17 could be an important landmark for Georgia. What is the absolute minimum you expect from the meeting in terms of EU support to Georgia?
Salome Samadashvili:
The absolute minimum that I would expect is, [first], that there is a proper and objective assessment of the behavior of the Russian Federation toward Georgia in recent days, and toward Georgian citizens, and the message is sent that this is not what the European Union feels comfortable with and expects of its strategic partner.
And, [secondly], I expect a recognition that the existing situation will destabilize the whole region, and will destabilize the European borders, and we need to move forward with finding a constructive way which will involve all major players, including the Russian Federation, in moving forward to find solutions to the 'frozen conflicts' on our territories.
RFE/RL:
What do you make of the positions taken so far by officials like EU foreign-policy coordinator Javier Solana and Peter Semneby, the EU special representative for the South Caucasus? Both men last week addressed the European Parliament Foreign Affairs Committee on the dispute, and both offered support to Georgia but refrained from criticizing Russia. Solana also raised some worries in Georgia when he said the resolution of Kosovo's status might set a precedent for South Ossetia and Georgia.
Samadashvili:
Well, I think that those statements made it clear that the European Union recognizes the problems that exist and it has a more-or-less objective assessment of the situation in the country, and the role played by the different players.
I would say that the statements of Ambassador Semneby, emphasizing that Kosovo is a very different case of South Ossetia or Abkhazia -- and therefore any discussion of any precedents set by Kosovo for those situations is completely unfounded -- was a very important message which was delivered to people who would like to see it otherwise. But what we expect now is concrete decisions regarding concrete, constructive engagement that we can see from the European Union in the region to move the process forward.
RFE/RL:
Do you also accept Solana's and Semneby's criticism that Georgia has tended to behave in a provoking manner toward Russia, and that Georgia does not seem to have a long-term plan for the future of Abkhazia and South Ossetia?
Samadashvili:
I would totally disagree with those statements because, first of all, Georgia in the last year and a half has been putting forward very detailed proposals on how we see the peace process moving forward. Some of those were endorsed by the international community, for example the peace plan for South Ossetia by the [Organization for Security and Cooperation in Europe] OSCE ministerial in Ljubljana last year, and Georgia has moved forward with unilateral actions which were listed in this peace plan, and we have covered all the ground that could be covered unilaterally, all the ground that can be covered to move the situation forward.
Now, we haven't met the reciprocity from the other side and we have on a number of cases extended our hand of friendship and cooperation to all players in the region. We pledged to give as much money as the donors have pledged at the donors conference in Brussels [for South Ossetia early in the summer].
Now it's a question of moving on with the implementation of the projects. So, the lack of will from the other side and lack of political will from outside players to pressure them to move the process forward should not be disguised by criticism of Georgian government, which is unfounded.
RFE/RL:
You made an intriguing reference in your address to the European Parliament deputies to Georgia's readiness to give Abkhazia and South Ossetia "the most extensive form of autonomy that exists in Europe." Scotland, for example, although part of the United Kingdom, could secede at any time.
Samadashvili:
I would refrain from making any concrete statements on this, because this is obviously something that is subject to negotiation and that we have to talk about with our partners rather than making any rash statements on this. But, yes, we have made it clear that we're ready to the regions the widest form of autonomy recognized by the European standards and by the European practice.
RFE/RL:
In concrete terms, what precisely does Georgia need from the EU? You told the EU deputies here earlier it wasn't necessarily peacekeepers.
Samadashvili:
The peace plan put forward by the Georgian government envisions the presence of [a] police mission rather than peacekeeping operations in those regions, because as we have said many times, the immediate goal for us is to strengthen the security situation in the regions, to make sure that there is a control over illegal activities, that they are curbed and limited, to make sure that demilitarization moves forward and that's the solution, that's the key to the solution of the problem.
That's why we have [on numerous occasions] asked for the introduction of some assistance on the border, [at the] Roki Tunnel connecting South Ossetia['s] Tskhinvali region with Russia and for more transparency and international presence in both regions. This is what we're asking for, rather than [a] full-blown peacekeeping operation.
RFE/RL:
And who would replace the Russian peacekeepers should they leave, as Georgia would like them to do?
Samadashvili:
As we said before, let's sit down and talk about the format which will make everyone comfortable. We're not talking about [the] exclusion of the Russians completely from the region, because we understand this is the southern fringe of the Russian Federation and they have vested interests in seeing the security situation there stable and improved. This is why we are surprised that the Russians continue to be nonconstructive, because the results will be [a] spillover into their own country.
So we understand Russia has a great interest in participation in the developments in the region, and we are ready to consider that. What we're not ready to tolerate is the exclusive involvement of the Russian Federation in the situation, not because we have anything against the Russian Federation per se, but because in [the] last 14 years we have seen that the existing format does not work.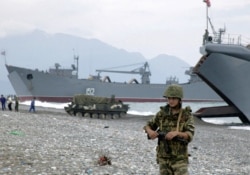 Russian military hardware being withdrawn from a Russian base in Batumi, Georgia, in August 2005 (TASS)

WHAT COMES NEXT? Although Russia is unlikely to push an aggressive military response to the current tensions with Georgia, it has a number of economic, political, and diplomatic options at its disposal. Already on October 1, Russian President Vladimir Putin summoned his inner circle to weigh Moscow's options... (more)
RELATED ARTICLES
Russia Says Georgia Sanctions Will Continue
Russia Suspends Transport, Postal Links To Georgia
EU Commissioner Urges Dialogue With Moscow
Ulterior Motives Seen Behind Escalation Of Spy Row
Georgia Turns Russians Over To OSCE
MORE: Coverage of the situation in Georgian from RFE/RL's Georgian Service and in Russian from RFE/RL's Russian Service.
ARCHIVE
RFE/RL's English-language coverage of
Georgia
and
Russia
.