RFE/RL:
How would you describe the current atmosphere in Georgia?
Zeyno Baran:
The situation is once again tense in Georgia, both in South Ossetia and Abkhazia. It's not necessarily a big surprise, because there was expectation that there would be some sort of tension following the G8 summit [in July] and before the annual UN summit that's going to take place in New York over the next several weeks. The UN is always a great opportunity to really put some of these issues on the agenda. We also know the Georgian government is eager to make significant progress before the Riga summit in November to be able to make a closer push for its eventual NATO membership.
"A number of European countries are concerned that if they give Georgia a clear positive sign at [the NATO summit in] Riga, that could potentially upset Russia."
So the various players in Georgia, both in the Tbilisi government and the separatist regions in Abkhazia and Ossetia, as well as some of the involved parties in Moscow have been now increasing attention in one way or another. There have been provocations on different sides. I think it's important to understand that what the Georgian government, at the presidential level, has been saying is that they do not want confrontation. They would like to resolve both Ossetia and Abkhazia through peaceful means, through negotiations.
RFE/RL:
Still, Georgian government officials have made some provocative statements of their own. Defense Minister Irakli Okruashvili, for example, caused a lot of controversy when he said he would "celebrate New Year's Eve" in the South Ossetian capital of Tskhinvali.
Baran:
Yes. That of course created a lot of concern among many people. I would argue that it was probably said more for domestic purposes, and I think, because Georgia is a democracy, that many Georgians have been critical of the defense minister's statement. But at the same time I need to underline that he is very popular in Georgia, because people in Georgia would like these conflicts to be resolved.
But yes, the minister's rhetoric has been of concern to some people, and we now see different parties from the Europeans, the Americans getting involved and making sure that these sorts of provocations and rhetoric do not blow into something that would be harmful and dangerous.
Of course, the shooting at the defense minister's helicopter [by South Ossetian forces on September 3] was a real scare for many people. The details are still not clear, but I think maybe this could be a catalyst to really get people to understand that the situation is indeed tense and could get out of control.
RFE/RL:
What do you think are the chances of Georgia getting a good signal at the Riga NATO summit if there are signs of a thaw in its frozen conflicts?
Baran:
This has been a big concern for the Georgian leadership. Basically, they fear they will be perceived as not interested in solving these frozen conflicts through political means and negotiations. So they have been very concerned, and when President Saakashvili was in Washington [in July] and in meetings in different European capitals, he has urged friends in these capitals to make sure that there are no provocations ahead of the Riga summit.
I think the timing is very, very important to keep in mind because of the Riga summit. As we know, a number of European countries are concerned that if they do give Georgia a clear positive sign at Riga, that could potentially upset Russia.
So they are not only dealing with the issue of future Georgian-NATO membership as an issue that concerns Georgia only. They're also concerned with their relations with Russia as well.
Unknown Victims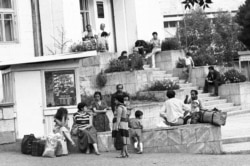 Ethnic Armenians displaced by fighting in Nagorno-Karabakh in the 1980s (Photolur)
HOW MANY MISSING? Well over a decade after conflicts in the South Caucasus froze, the International Committee of the Red Cross says new cases of missing people continue to emerge. Significant progress will, it fears, have to wait for final peace agreements.
Ethnic conflicts in the 1990s claimed tens of thousands of lives in the South Caucasus. Some 15 years later, many families are still searching for information about relatives who disappeared without a trace in the fighting.... (more)
RELATED ARTICLES
Frozen Conflicts Show Little Sign Of Thaw

South Caucasus Countries Discuss 'Frozen Conflicts,' Closer Ties
ARCHIVE
Click here to view archives of RFE/RL's coverage of the conflicts in Abkhazia, Chechnya, Kosovo, Nagorno-Karabakh, Ossetia, and Transdniester.

Click on the icon to view images of the Nagorno-Karabakh conflict (Flash required)