Defense Minister Irakli Okruashvili said on September 3 that the aircraft was damaged but nobody was hurt, and they landed safely in Georgian-controlled territory.
Earlier, South Ossetian officials said their forces shot down a Georgian government helicopter that had invaded the breakaway region's airspace.
On Rustavi television, Georgian Prime Minister Zurab Nogaideli accused Russian military commanders of involvement in an attack.
Speaking to reporters in Gori, a town near South Ossetia, Okruashvili said the Mi-8 helicopter came under fire during a flight to a base in western Georgia.
He said the craft was hit but that the pilots were able to land safely with no casualties.
Earlier, South Ossetian government spokeswoman Irina Gagloyeva said a Georgian Interior Ministry helicopter was downed after its crew failed to respond to requests that they land or change their route.
(Reuters, AP, AFP)
Universal Principles?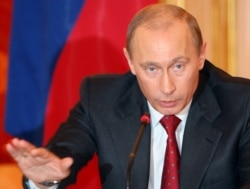 President Putin at a Kremlin meeting in April (epa)
PUTIN SPEAKS OUT: During a January press conference, Russian President Vladimir Putin said there is a need for "universal principles" to settle "frozen" conflicts in the CIS. His comments came against the background of impending talks on the future status of Kosovo, which many predict will grant it a form of "conditional independence" from Serbia and Montenegro. As an ally of Serbia, Moscow has consistently opposed the idea of Kosovar independence. Putin's remarks suggest he may be shifting his position, but only if the principles applied to Kosovo are also applied to frozen conflicts in the former Soviet Union. If Kosovo can be granted full independence, he asked, why should we deny the same to Abkhazia and South Ossetia? (more)
RELATED ARTICLES
Putin Calls For 'Universal Principles' To Settle Frozen Conflicts
Russia Key To OSCE's Attempts To Resolve Frozen Conflicts
Georgia Pushes For EU Backing In Standoffs With Russia
ARCHIVE
Click here to view archives of RFE/RL's coverage of the conflicts in Abkhazia, Chechnya, Kosovo, Nagorno-Karabakh, Ossetia, and Transdniester.