Georgia: A NATO Progress Report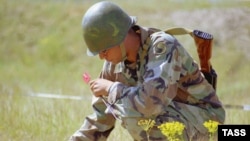 An Armenian soldier in military exercises run under NATO's Partnership for Peace program searches for signs of illegal border crossings (file photo) (ITAR-TASS) Georgians should entertain no hopes that NATO enlargement will be on the agenda of the next meeting of the West's largest security alliance, says Robert Simmons, NATO deputy assistant secretary general for security cooperation and partnership and NATO's special representative for the Caucasus and Central Asia. What is most important for Georgia is to act on its promises and commitments, he told RFE/RL's Georgian Service on May 25.
RFE/RL: Georgia hopes eventually to join NATO and its hope now is that its relationship with NATO will be upgraded, from the current Individual Partnership Action Plan (IPAP) to an Intensified Dialogue (ID) and the greater cooperation that that involves. What are the prospects of that happening?
Robert Simmons: There has been a lot of discussion of that, but NATO is a consensus organization, and there is no consensus [on this issue]. But there is strong support, and I would think that, certainly, during the course of the year, Georgia will get Intensified Dialogue.
RFE/RL: Will the issue of NATO enlargement -- possibly to include Georgia -- be on the agenda of the next NATO summit, in Riga?
"Particularly in the last six months, Georgia has made significant progress. What's key now is that they hold the line and implement the steps that they have undertaken."
Simmons: The NATO summit will not concentrate on enlargement. It will deal with partnerships and NATO transformation. There will be other opportunities before the summit to discuss Intensified Dialogue and enlargement. But we made a decision some time ago that the focus of this summit would not be enlargement... Particularly in the last six months -- and that's the report we made of the implementation of IPAP -- Georgia has made significant progress. What's key now is that they hold the line and implement the steps that they have undertaken. They've made a lot of promises, a lot of commitment, passed important legislation. What's now important is implementation -- moving those steps forward to actually carry them out in the practice of the Defense Ministry, but also the elections process, the reform of the judiciary, and other activities.
Georgia and Abkhazia exchanged peace proposals in mid-May. How would NATO like Tbilisi and Georgia's separatist regions, Abkhazia and South Ossetia, to resolve their frozen conflicts? RFE/RL:
Simmons: My understanding is that the policy of the [Georgian] government is the policy of the [Georgian] president, which he set out at the Council of Europe last year and repeated in the OSCE [the Organization for Security and Cooperation in Europe]. NATO very much supports the president's policy for a peaceful solution, by confidence-building between the territories and all the rest of it. And so I take that to be the government's position and it's a position that NATO strongly supports.
RFE/RL: What steps should Georgia take to promote its ambition to join NATO?
Simmons: We've set out an ambitious and jointly agreed program in the IPAP, and if Georgia moves forward to implement that as actively as it's done in the past six months, its record will be clear and good. So working to implement the goals, the good goals that they've set and we've agreed in the IPAP will hold them in good stead when we turn to Intensified Dialogue and the next steps.

SUBSCRIBE For weekly news and in-depth analysis on Armenia, Azerbaijan, Georgia, and Russia's North Caucasus by e-mail,
subscribe to "RFE/RL Caucasus Report."