PRAGUE, May 24, 2006 (RFE/RL) -- Surrounded by a bevy of wine glasses and photographers this week in Kyiv, Georgian President Mikheil Saakashvili enjoyed a glass of one of his country's biggest exports.
The wine festival in the Ukrainian capital was a clear show of solidarity, after Russia recently banned Georgian wine in a move many think is political.
That spirit of bonhomie also seemed evident in the more serious business of politics. Ukrainian President Viktor Yushchenko, who was elected the first-time secretary-general of GUAM, spoke enthusiastically of the region's prospects.
"I am firmly convinced that our region has great potential and that it will become one of the most promising regions in modern Europe. This concerns not only energy or transport projects but also security projects, I'm sure," Yushchenko said.
The presidents of the four GUAM countries adopted a new charter, rules of procedure and financial regulations. And crucially, the leaders also expressed their desire for increased cooperation with NATO and the European Union.
They also gave the organization a new name. GUAM will now be known as the Organization for Democracy and Economic Development-GUAM.
Ailing CIS
This apparent reawakening is likely to irritate Russia. From the outset, Moscow has reacted to GUAM with mistrust and hostility, perceiving it as a secret weapon with which the United States, a GUAM funder, planned to emasculate the CIS.
Whatever the cause, the CIS -- which rose from the ashes of the Soviet Union in 1991 -- seems to be in trouble.
In recent weeks, Saakashvili has repeatedly hinted at possibility of his country withdrawing from the CIS.
In Ukraine and Moldova, senior politicians have alluded to the possibility of leaving the CIS. Of the four GUAM countries, only Azerbaijan has ruled out leaving the body.
The presidents of the GUAM countries in Kyiv, May 23 Aleksandre Rondeli, the president of the Georgian Foundation for Strategic and International Studies in Tbilisi, thinks that GUAM's transformation is part of the disintegration of the CIS.
"GUAM in the beginning was created mostly as a certain kind of resistance toward Russian security policy. But now it's developing into a serious, full-fledged international organization, but with an economic basis," Rondeli says.
Economic Focus
Indeed, at the Kyiv meeting, economic cooperation was high on the agenda.
Since its inception, the presidents of the GUAM member states have consistently stressed the anticipated benefits of economic cooperation. That means, in the first instance, the construction of export pipelines for Caspian oil and gas that bypass Russian territory. The Baku-Tbilisi-Ceyhan (BTC) oil-export pipeline is to be formally inaugurated next month and the Baku-Tbilisi-Erzerum gas pipeline will go into operation this fall.
Much of the renewed cooperation will now be concentrated on reducing dependence on Russian oil and gas. Ukraine, Georgia, and Moldova are all reliant on Russia for gas supplies
.
But Azerbaijan could replace Russia as Georgia's supplier when gas from its Shah-Deniz field starts flowing through Georgia in the next few months.
At the May 23 summit, the presidents took another bold step, announcing that they had signed a protocol on creating a free-trade zone and a customs union.
Saakashvili, speaking to RFE/RL's Georgian Service, stressed that the renewed interest in the alliance was for self-protection: "It is very important that, at a time of real economic sanctions against Ukraine, Georgia, and Moldova, at a time of new obstacles and embargoes, we have agreed to introduce a free-trade regime among our countries, because it offers concrete benefits to all [GUAM member] countries, all citizens, all producers."
Previous Regional Failures
But is this likely to amount to much?
Katinka Barysch, chief economist at the London-based Centre for European Reform,says that since the breakup of the Soviet Union there have been numerous attempts to create political and economic cooperation. She says that most of these initiatives have been only mildly successful as trade between countries has not increased.
"My impression is that the policymakers in the former Soviet Union have a very statist and traditional view of international relations. The state is supreme over markets and there is a clear distinction between high politics and low politics," Barysch says.
"And high politics is big presidents getting together and signing deals, and that very often includes economic deals, but this isn't really something that's driven from the ground up, that's driven by the business sector. The motivation behind that seems to be political."
Konstantin Kosachyov, the head of the Duma's Foreign Affairs Committee, has no doubt that the motivation for GUAM is political. In an interview with RFE/RL's Russian Service, Kosachyov said he couldn't see what the countries had in common:
"I find it extremely hard to imagine that something actually unites these countries, in particular slogans on democratic elections and adherence to the idea of progress. And that explains Russia's reaction -- we find it strange to see an alliance formed not on a positive but on a negative note; not for something, but against something."
Besides, there could be tensions within the grouping itself. Georgia, Ukraine, and Moldova have unequivocally pro-Western and pro-NATO orientations, whereas oil-rich Azerbaijan has taken a more nuanced position.
Speaking after the summit, Azerbaijani President Ilham Aliyev was keen to stress how the organization wasn't about confrontation. "It is not aimed against anybody," he said. "We didn't gather here to make friends in order to oppose someone else."
(RFE/RL's Liz Fuller, Luke Allnutt, Claire Bigg, and the Russian, Ukrainian, and Georgian services contributed to this story.)
A Precarious Balance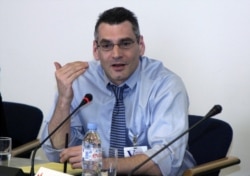 Richard Giragosian at RFE/RL on May 25 (RFE/RL)
SECURITY SLIPPING AWAY?
: On May 25, RFE/RL's Prague broadcasting center hosted a talk by
RICHARD GIRAGOSIAN
titled, "The Military Balance In The South Caucasus And Nagorno-Karabakh." Giragosian, a Washington-based analyst of international relations in the former Soviet Union, concentrated on the military balance between Armenia and Azerbaijan as the two countries continue to increase defense spending. Girogosian argued that corruption is the main threat to the national security of both countries. He also commented on other security issues in the South Caucasus, Iran, elsewhere.
LISTEN
Listen to the entire briefing (about 60 minutes):
Real Audio
Windows Media
Selected Articles By Richard Giragosian:
Nagorno-Karabakh: Peace May Depend On Military Situation
Georgia: Gas Cutoff Highlights National Security Flaws
Azerbaijan: Has Government Taken A Troubling Example From Andijon?
ARCHIVE
For an archive of RFE/RL's coverage of Nagorno-Karabakh, click here.

SUBSCRIBE
For weekly news and in-depth analysis on Armenia, Azerbaijan, Georgia, and Russia's North Caucasus by e-mail, subscribe to "RFE/RL Caucasus Report."