Russian media reports quoted an unnamed Gazprom official as saying the company wanted Georgia to pay $230 per 1,000 cubic meters, up from $110 now.

The official said a deal on the proposal is yet to be reached.

Georgian Deputy Energy Minister Aleko Khetaguri said Georgia had not been officially notified of the new proposal.

The proposed new price would be close to current European export prices of $230-$250 per 1,000 cubic meters.

"We must put an end to the practice of subsidizing others because, with low prices, we've handed over an expensive product without receiving its equivalent," Russian Energy Ministry spokesman Yury Yershov was quoted by RFE/RL's Georgian Service as saying in Moscow today.

"Things are difficult for us also. We have many poor people and a number of social problems," he continued. "So, we don't have the possibility to support and help someone just like that. I'm certainly in favor of international prices."

Negotiation Period
The deal has not yet been finalized. Georgia has said that negotiators will hatch out an agreement at a meeting between Georgian officials and Gazprom sometime in November or December.
Georgian Foreign Minister Gela Bezhuashvili, speaking to journalists in Moscow, said they will continue to negotiate the price.
"We need to see where this price comes from, why is the price the same as the one they [Russia] are charging in Eastern Europe. Why should Georgia pay the same as Eastern Europe when it is closer to Russia and transit fees should be correspondingly less? " Bezhuashvili said. "This is matter for technical negotiations and I think we should try to reach a commercial deal, according to the principles of market economics. But, in this case, I think politics is playing a bigger role in the price than economics."
Relations between the two countries are at rock bottom after Georgia detained four Russian military officers on spying charges in September.
Russia subsequently imposed economic sanctions on Georgia and severed air, sea, and postal links. Russia has also cracked down on Georgian migrants and businesses.
Foreign Minister Bezhuashvili is currently in Moscow in a bid to defuse tensions. On November 1, he met with his Russian counterpart, Sergei Lavrov, although he was refused a meeting with President Vladimir Putin.
Gas Politics
In the past, Georgia has received up to 75 percent of its gas from Russia.
Speaking in Tbilisi today, Georgian Prime Minister Zurab Noghaideli said Georgia will be looking for alternatives.
"It's clear that we are facing political negotiations rather than economic negotiations. Therefore, our task is to finalize very soon the work on finding alternative [energy sources], which we have been working on since last year. This means finishing [energy] negotiations with Turkey, Azerbaijan, and Iran in order to get the best possible conditions for our people under these circumstances," Noghaideli said.
Gazprom's latest move is reminiscent of Russia's proposed gas-price hike to Ukraine last year. Gazprom, which is the world's largest gas producer, had proposed a fourfold price increase.
Many commentators suspected that move was politically motivated -- to punish Ukraine for its pro-Western course under President Victor Yushchenko.
Before a deal was reached, Russia turned Ukraine's gas off for a few days in January.
How Much Do The Neighbors Pay?
How Much Do The Neighbors Pay?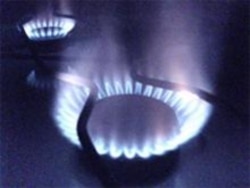 SETTING THE RATES: With Gazprom negotiating new contracts, many states will be paying more for Russian natural gas in 2007.
Belarus, following tense negotiations with Gazprom, will pay $100 per 1,000 cubic meters in -- up from $47 in 2006. Ukraine, which depends on Russia to supply it with about 77 percent of its gas, will pay $130 per 1,000 cubic meters of a Turkmen-Russian gas mix. Moldova, which depends on Russia for 100 percent of its gas, will pay $170 per 1,000 cubic meters, with the price rising to European-level market price by 2011. Georgia has agreed to pay Gazprom $235 per 1,000 cubic meters of gas.
ARCHIVE
A
complete archive
of RFE/RL's coverage of energy issues in the Caspian Sea region and Russia.