"We have received telephone confirmation that negotiations [on Russian gas supplies to Ukraine] are being concluded in Russia and that the volume of gas supplied to Ukraine [in 2007] will be at least 55 billion cubic meters at a price not higher than $130 per 1,000 cubic meters," Yanukovych said.

Yanukovych was speaking at a joint press conference today with Russian Prime Minister Mikhail Fradkov, who was in Kyiv to take part in a meeting of the intergovernmental committee on economic cooperation.
Deal Confirmed, Price Not
The joint venture UkrGasEnergo and RosUkrEnergo, the intermediary company set up to supply Ukraine with Russian gas, confirmed the agreement. However, the companies have yet to confirm the price.

The rate of $130 per cubic meters would be a significant jump from the $95 Ukraine is currently paying. Nevertheless, the deal would widely be seen as a victory by Yanukovych following Russian gas giant Gazprom's earlier demand of up to $240 per 1,000 cubic meters, the European average.

Today's announcement ends months of speculation about the course of Ukrainian-Russian relations, which suffered after Russia cut off gas supplies to Ukraine early this year during one of the coldest winters in recent history. The cutoff, in turn, disrupted supplies to Europe.

Ukraine ended the dispute by agreeing to a nearly twofold increase in the price it paid for Russian gas -- from $50 to $95.
Tymoshenko Reacts

Ukrainian opposition politician Yuliya Tymoshenko denounced the developments today during a press conference in Kyiv.

"To speak today about $130, $210, or $95 is ridiculous given the fact that [our] officials have abandoned the price that [should] have been valid until 2010," she said.

Russian Prime Minister Fradkov, meanwhile, said today that gas contracts were an "important, but not the sole" component of Russian-Ukrainian economic cooperation.

The Russian prime minister, who was also expected to meet today with Ukrainian President Viktor Yushchenko, also called for "synchronizing" the two countries' bids to join the World Trade Organization (WTO).
Prague Energy Forum, October 23-24
Prague Energy Forum, October 23-24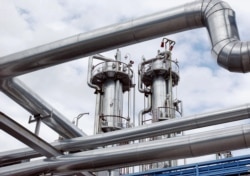 An oil refinery in Western Siberia (TASS)

STABILITY AND SECURITY: On October 23-24, RFE/RL and the Warsaw-based Economic forum cosponsored the Prague Energy Forum at RFE/RL's Prague broadcasting center. The Energy Forum brought together nearly 100 experts and policymakers from Europe, Central Asia, and the Middle East to discuss key issues of energy supply and security in the years to come.
HIGHLIGHTS: RFE/RL presents some of the key presentations from the Energy Forum and interviews with some participants:
Czech Premier Urges Reduced Energy Dependence On Russia
Interview: Nature A Bigger Threat To Security Than Terrorism
Russia Can Boost Security Through Transparency
Interview: Russian Expert Addresses Europe's Security Concerns
U.S. Official Outlines Concerns About Iran's Nuclear Program
Iranian, Western Experts Spar Over Tehran's Nuclear Ambitions
Experts Ponder Future 'Gas Wars'
Former U.S. Ambassador Says Kyiv Can Cope With Gas Price Rise
Interview: Tbilisi Bent On Energy Independence


MORE: Click on the image to see the conference program, participant list, and other materials.