Some observers are concerned that Russia's state-controlled gas monopoly Gazprom will be unable to supply domestic electricity-generating companies with enough gas. If that happens, it could mean brownouts and blackouts this winter.
Such a scenario nearly occurred last year. Mosenergo, the majority shareholder in Russia's Unified Energy Systems (EES) electricity monopoly, supplies electricity to the Moscow region.
In the winter of 2005-06, it was faced with a severe lack of gas to power its generating plants. Gazprom was forced to briefly limit supplies to Europe in order to keep the lights on in Moscow.
EES head Anatoly Chubais is concerned. He has placed the blame for the potential gas deficit squarely on Gazprom, which controls 25 percent of the world's gas reserves and 94 percent of Russia's natural gas. Chubais has said that Gazprom is unable or unwilling to supply generating companies in Russia with enough gas and this has forced them to buy more-expensive diesel fuel to power their plants.
Fuel Change
In 2006 alone, the cost of diesel has risen by over 85 percent, while the price consumers are charged for electricity has remained low.
Gas shortages began during the winter of 2005-06 and EES instructed its thermal-generation plants to switch to other fuels -- diesel and coal. In the first eight months of 2006 the use of diesel increased by 35 percent and coal by 9 percent.
According to Chubais, the gas shortage makes the present cost of diesel fuel equivalent to a price of $185 per 1,000 cubic meters of gas. EES buys gas from Gazprom at $46 per 1,000 cubic meters.
Chubais told the "Vedomosti" business daily on September 28 that when he met with Gazprom CEO Aleksei Miller to discuss this problem, Miller told him to switch to other fuels.
EES is also buying electricity from abroad. In October, EES entered into negotiations with the Ukrainian Fuel and Energy Ministry to buy excess electricity. According to the October 2 issue of the "Kommersant" daily, EES has agreed to purchase from Ukraine some 6 billion kilowatt-hours (kWh) to make up for expected shortfalls in the European part of Russia.
Lacking Investments
Most experts agree that Russia's domestic gas shortage is due to Gazprom's paltry investments and the company's desire to expand in too many directions at once.
With Gazprom's main gas fields running low, industry analysts say the company has not done enough to invest in exploration and development of new fields in the Yamal Peninsula. Instead, the company, which is $38 billion in debt, has concentrated on noncore activities such as buying into European energy companies. In September 2005, Gazprom spent $13 billion to buy oil giant Sibneft in order to transform itself into an integrated energy company.
It looks like the Putin-Miller team might have overextended itself. Many analysts believe that Putin's promise in March to supply China with 30 billion to 35 billion cubic meters of gas by 2025 is unrealistic as is Gazprom's decision to develop the giant Shtokman gas field without the help of foreign partners.
One possible solution to the gas deficit could be the liberalization of Russia's gas market -- something the European Union is pushing for.
Chubais believes that the gas market should be liberalized along European lines and that Gazprom's pipelines be opened to independent gas producers. He says that the extra income generated by these reforms could be used to construct new underground gas storage facilities.
In September, Russian Energy Minister Viktor Khristenko said that a liberalized gas market in Russia is possible and that it could encompass over 100 billion cubic meters of domestic gas sales. However, a liberalized gas market could cause consumer electricity prices to rise as it would spell the end of Gazprom's subsidized pricing system.
The new Russian strategy to expand nuclear power generation could well be a feasible long-term solution to declining gas supplies, but in the meantime, residents of Moscow and St. Petersburg should brace themselves for a frosty winter.
Russia And Global Energy Security
Russia And Global Energy Security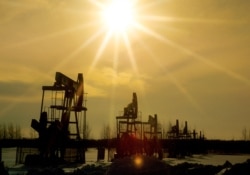 An oil field in Russia's Republic of Bashkortostan (TASS file photo)


ENERGY SECURITY is increasingly moving to the top of the EU's agenda in its dealings the outside world. A recent report identifies the European Union's main energy objectives as not just securing gas and oil deliveries from Russia, but also ensuring that it has reliable alternative sources, including in Central Asia. Nonetheless, EU officials say relations with Russia take center-stage in their thinking....(more)
RELATED ARTICLES
EU Maintains Codependent Energy Relationship With Russia
Turkmenistan: The Achilles' Heel Of European Energy Security
U.S. Official Urges Reforms In Energy-Producing Countries
ARCHIVE
A
complete archive
of RFE/RL's coverage of energy issues in the Caspian Sea region and Russia.