Russian federal authorities are considering creating a state-controlled company, one that would embrace all enterprises operating in the nuclear sector.
In an article on March 7, "The Moscow Times" reported that Viktor Opekunov, chairman of the State Duma subcommittee for nuclear energy, said the industry restructuring "would involve 'privatizing' all of Russia's nuclear enterprises -- in other words, incorporating them into joint-stock companies -- with the state becoming their only shareholder."
"The Moscow Times" identified the main components of Russia's nuclear industry as Rosatomenergo, which runs all power stations; Tvel, which owns a controlling interest in Russia's key nuclear fuel-manufacturing enterprises; Atomstroieksport, which builds nuclear power stations abroad; and Tekhnabeksport, the export arm trading in nuclear machinery and fuel.
All four groups are currently supervised by Rosatom, Russia's federal atomic energy agency, led by former Prime Minister Sergei Kiriyenko. And all would continue to operate under the new umbrella organization proposed by Russian federal authorities.
Fuel From the Moon
The nuclear power industry in Russia continues to play an ever-increasing role in Russia's energy balance and is destined to play an even more significant one in the future. Russia's energy strategy for 2020, adopted in 2003, forecasts that by 2020 nuclear power is expected to increase its share to 25 percent of Russian electricity generation, up from 16 percent in 2004, as the share from hydrocarbon-fired generators drops.
Russian policy is to gradually phase out the use of coal, oil and gas to fire electricity generators. According to a December 2005 study by the Uranium Information Center in Australia, "Rosatom's long-term strategy up to 2050 involves moving to inherently safe nuclear plants using fast reactors with a closed fuel cycle and MOX fuel."
In the former Soviet republics and Central Europe, the Russians enjoy a nuclear power advantage, and could use it as they presently use gas -- as a lever to achieve their political goals.
MOX, mixed oxide fuel, is a process of using plutonium left in spent reactor fuel and from nuclear warheads to generate energy. It is essentially a recycling process and is used in some 30 nuclear reactors in Europe.
MOX is not the only answer to reactor fuel. The Executive Intelligence Review reported on 10 February that "on January 25, Nikolai Sevastyanov, head of the Energia Russian Space Company, outlined an ambitious plan to obtain fuel for the next type of nuclear power: thermonuclear fusion. He said Russia should mine helium-3 (which is rare on Earth) on the moon."
Presently, Russia has 31 operating reactors, which generate about 147 billion kilowatt-hours per year. Six new reactors are under construction and 16 more are planned. According to the U.S. Energy Information Administration, Russia's nuclear power facilities are aging. "Fifty percent of the country's 31 nuclear reactors use the RBMK design employed in Ukraine's ill-fated Chernobyl plant. The working life of a reactor is considered to be 30 years: nine of Russia's plants are between 26 and 30 years old, and six are between 21 and 25 years old" the EIA reports.
Thermal power (oil, natural gas, and coal-fired) currently accounts for roughly 63 percent of Russia's electricity generation, followed by hydropower (21 percent) and nuclear (16 percent).
The Eurasian Nuclear Bloc
Russia's future role as an international nuclear power leader, a concept which the current leadership is promoting, is ambitious and far-ranging.
In February, Russian President Vladimir Putin announced that Russia would like to reestablish the former Soviet nuclear energy bloc in Eurasia. Speaking at the St. Petersburg summit of the Eurasian Economic Community (EES), in early February, Putin said Russia was "firmly determined" to widen its cooperation with the EES, and that a priority would be collaboration in the "peaceful uses of nuclear energy."
Rosatom announced plans to rejuvenate the Russian nuclear industry, mainly through cooperation with Ukraine, Kazakhstan, and other countries which once were part of the Soviet nuclear power space.
On January 20, Putin met with Kiriyenko, who stressed that nuclear power will need to receive an increase in government funding. "We need to build two nuclear reactors per year, beginning in 2011 or 2012," Kiriyenko was quoted by Interfax that day. In order to raise the needed funds for such a project, Rosatom will become a joint stock company, but will remain under government control. Kiriyenko also stated that he intends to build 60 atomic reactors abroad.
How feasible Kiriyenko's plans are is difficult to judge in light of the fact that there have been substantial delays in the construction of the six reactors presently being built. Only two or three are expected to meet startup target dates due to funding problems.
Russia's energy strategy forecasts that by 2020, nuclear power will increase its share to 25 percent of Russian electricity generation, up from 16 percent in 2004.
The other problem facing the nuclear program is the rapid depletion of uranium in Russia. At present, Russia produces some 2,900 tons of uranium, but deposits are rapidly dwindling.
Uzbekistan, which has an extensive reserve of uranium ore, was brought into the emerging nuclear partnership during the EEC summit and Putin announced that the Uzbeks would provide Russia with "additional long-term possibilities for the building of a stable nuclear fuel energy base," "The Moscow Times" reported on 8 February.
Seeking European, Asian Customers
Russia has also expressed interest in becoming a hub for supplying nuclear fuel and services for existing reactors in former Soviet bloc countries in Central Europe. During his recent trip to Hungary and the Czech Republic, Vladimir Putin stressed that Russia will take part in bids to upgrade existing nuclear reactors such as the Czech plant in Dukovany and the Hungarian Paksi Atomeromu plant which supplies 40 percent of Hungary's power needs.
The Arms Control Association reported in November 2000 that Russia and India signed a secret memorandum of understanding on October 4, 2000 to pursue future "cooperation in the peaceful uses of nuclear energy." The memorandum was one of several agreements, including a declaration of strategic partnership, signed during Putin's October 2000 visit to New Delhi.
In an apparent move to counteract this agreement, the U.S. signed an agreement in Delhi in March of this year to supply India with fuel and nuclear technology for peaceful purposes.
The very day when U.S. President George W. Bush signed the pact with India, Putin told a press conference in Prague that Russia would fight any restrictions placed on its atomic energy operations in Europe.
"Unfortunately, we are facing certain restrictions, attempts to limit our operations in nuclear energy and in power engineering on the European market," Interfax quoted Putin as saying on March 1. "We are not dramatizing this, but we will strive for equality."
Unlike its gas, Russia does not possess a near monopoly on nuclear fuel in the region and will face stiff competition on the European market from France. How this might affect Russia-France relations is uncertain. In the case of the former Soviet republics and Central Europe, the Russians certainly do enjoy a nuclear advantage and could use it as they presently use gas, as a lever to achieve their political goals.
Russia's Nuclear Power Chief
Russia's Nuclear Power Chief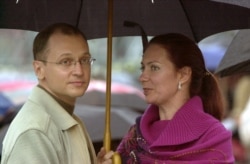 Sergei Kiriyenko and his wife, Maria, at a rock concert in 2004 (TASS)


A RISING STAR: In August 1998, Russia spiraled into financial meltdown. The subsequent ruble devaluation was a severe blow to the country's financial system and millions of people lost their savings. At the helm was Prime Minister SERGEI KIRIYENKO, who, along with his government, was subsequently forced to resign by then President Boris Yeltsin. Since that career low, Kiriyenko's fortunes have changed. Currently in charge of Rosatom, Russia's Federal Atomic Energy Agency, he is thought by many to be a politician on the rise.... (more)
See also:
Moscow Seeks To Reignite Nuclear Power Industry
Putin's Former Colleagues Make Up Today's Energy 'Team'