On March 10, President Vladimir Putin will visit Algeria, which, along with Russia and Norway, is the biggest supplier of natural gas to Europe. Putin is likely to discuss with Algerian President Abdelaziz Bouteflika potential cooperation in the energy-export sector and also about the settlement of multi-billion dollar Soviet-era debts. The visit has special significance as Algeria is Europe's only realistic alternative gas supplier to Russia. Any agreement between Russia and Algeria could make a serious impact on the economy of the European Union.
Russia has been developing its "energy superpower" policy for a while, even before Putin's December 2005 announcement:
In November 2005, Putin, together with Turkish and Italian prime ministers, Recep Tayyip Erdogan and Silvio Berlusconi, inaugurated the $3.2 billion Blue Stream natural-gas pipeline, which runs from Russia beneath the Black Sea to Turkey. The pipeline will account for approximately 60 percent of Turkey's consumer-gas needs. Turkey also imports 20 percent of its oil supply from Russia.
The same month, Putin visited South Korea and Japan and proposed to both countries major Russian energy projects. In Seoul, Putin proposed a supply of about 6 billion cubic meters of Russian natural gas starting in 2008. In Tokyo, Putin pledged that Japan would receive 30 percent of the gas extracted from the international Sakhalin-1 project. He also suggested that Japan participate in the Blue Stream project.
In December 2005, Russian Prime Minister Mikhail Fradkov inaugurated the construction of the $5 billion North European Pipeline,which will deliver Russian gas under the Baltic Sea to Germany and other European nations, bypassing Poland and the Baltic states. There are also plans to extend the pipeline to Britain. The same month, Gazprom began the "gas war" against Ukraine, which was viewed by many as political pressure on Kyiv.
In January, Federal Atomic Energy Agency head Sergei Kiriyenko announced that Russia is negotiating with Ukraine and Kazakhstan to restore the former nuclear-industry complex that was supervised during the Soviet era by the Ministry of Medium Machine Building (Minsredmash). He also announced that Russia plans to expand its nuclear power sector and build 40 reactors in 15 years.
In February, Gazprom CEO Aleksei Miller said in Ankara that the gas monopoly plans to extend the Blue Stream pipeline across the Mediterranean to Italy, Greece, Lebanon, and Israel via Turkey. During his visit to Budapest, Putin proposed to Hungarian leaders that the Blue Stream pipeline be extended to Hungary and on to Southeastern Europe.
But Russia has been concerned with more than just oil and gas. With consent from the United States and EU "troika" -- Britain, Germany, and France -- Moscow has proposed forming a joint venture to enrich Iran's uranium in Russia. The plan is intended to allay international concerns over Iran's nuclear program.
"Russia now has only two allies, oil and gas."
Perhaps to buy time (Iran is facing referral to the UN Security Council), Tehran has agreed with Moscow's proposal "in principle," but has categorically refused to abandon its own uranium-enrichment program. The United States and Israel are concerned that Iran will use its uranium-enrichment program for military purposes.
For economic reasons, the Kremlin would prefer that Iran not be referred to the UN Security Council as Russian nuclear lobbyists are pushing for the sale of new nuclear reactors to Tehran. And politically, support for Iran gels with Putin's doctrine of Russia establishing its preeminence as an energy superpower.
The 19th century tsar, Alexander III, once famously said that Russia has two allies: the army and the navy. Dmitry Trenin, the deputy director of the Moscow Carnegie Center, recently rephrased those words: "Russia now has only two allies, oil and gas." Russia's recent forays on the international stage would seem to prove Trenin right.
Russia's Nuclear Power Sector
Russia's Nuclear Power Sector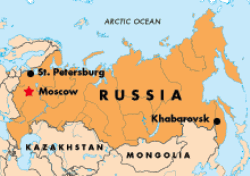 Click on the map to view the locations of Russia's civilian nuclear power plants.



POWER OF THE ATOM: As Russia's economy recovers from the collapse of the 1990s, the government is moving forward with plans to expand its nuclear-energy sector. Russia currently has 31 civilian nuclear-power reactors in operation, with the newest being Kalinin-3, which came on line in 2004. Nuclear power accounts for 16 percent of Russia's total power generation. Three additional reactors are currently under construction.
Many of Russia's reactors are quite old. In 2000, the government announced plans to extend the working lifetime of 12 first-generation reactors. So far, seven of these reactors have been upgraded for 15-year extensions and all 12 of them are expected to be replaced by 2020.
Russia controls about 4 percent of the world's known uranium deposits, producing some 2,900 tons of uranium in 2002. Russia has four operating uranium-enrichment plants, the largest of which is located at Novouralsk near Yekaterinburg.
The government has not yet approved a proposal for a permanent nuclear-waste storage facility on the Kola Peninsula.