New Findings Prompted Gazprom U-Turn On Shtokman Project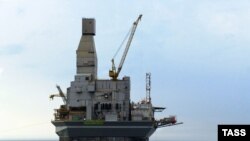 An oil and gas platform off the coast of Sakhalin, in the Russian Far East (ITAR-TASS) October 19, 2006 -- The Russian daily newspaper "Kommersant" reports today that gas giant Gazprom's surprise decision last week to develop the Shtokman gas field in the Barents Sea without help from foreign companies was based on new information about the field.
Gazprom reportedly received research data that was "unexpectedly positive" about the Shtokman field, possibly the largest natural gas field in the world.
"Kommersant" said the new data lowered the risks associated with developing the field and led Gazprom.
(AFP)



UPDATED CONSTANTLY: Visit RFE/RL's Russian-language website, featuring news, analysis, features, streaming audio, and more, in Russian, from RFE/RL's Russian Service.
ARCHIVE
RFE/RL's English-language
coverage of Russia
.