The reason? The project is supposedly endangering the salmon population on the Russian Pacific island.
The decision has angered the Japanese. Two Japanese firms, Mitsui and Mitsubishi, own 45 percent of the project, and Shell the rest. Sakhalin-2 is the only energy project in Russia fully owned by foreigners.
The project came to life in 1993 as a production-sharing agreement to develop the vast oil and gas fields on and around the island and construct a liquefied natural gas (LNG) terminal to ship the product to Japan, South Korea, China, and the United States.
The Japanese companies are concerned about delays as they have a contract with Japan's largest electricity producer, Tokyo Electric Power Company, to begin deliveries of LNG in 2008. Immediately after the Russian announcement on September 18, both companies took a beating on the Tokyo stock exchange. Mitsubishi shares fell as much as 2.8 percent and Mitsui as much as 4.1 percent.
Expressing official discontent with the Russian decision, Japanese government spokesman Shinzo Abe warned that diplomatic relations between Japan and Russia could be hurt by Russia's revocation of environmental approvals. "I am concerned that major delays might have a negative influence on overall Japan-Russia relations," Abe told a news conference.
Project Cost Overrun
But the Russian side also has grievances about the way the Sakhalin-2 project has developed.
Shell announced in July 2005 that the costs of Sakhalin-2 were now estimated at $20 billion -- $10 billion more than originally planned. Russia has said the state will lose billions in expected shared revenues because of the cost overrun.
Analysts have suggested that Russia is using the environmental injunction as leverage in state gas monopoly Gazprom's bid to purchase a 25 percent stake in Sakhalin-2.
Using government rulings to win a commercial advantage is not a new tactic for Gazprom. According to a March, 2003 "Moscow Times" report, in Gazprom's dispute with BP-TNK over control of the giant Kovytka gas field there were "unconfirmed reports that the Natural Resources Ministry has been seeking to revoke the license to Kovytka held by Russia Petroleum, of which TNK and BP are the major shareholders."
The ongoing effort to regain the state's grip on energy resources in Russia is definitely making headway. The Russian daily "Vedomosti" recently reported that Gazprom is seeking to buy into BP-TNK and that TNK's three private Russian partners are willing to sell their shares.
And on September 18, Interfax reported that Sergei Fedorov, an official at Russia's Natural Resources Ministry, said that not only Shell, but all the companies involved in the three Sakhalin projects, including U.S.-based ExxonMobil and French-based Total had violated "technical" provisions in their licenses and these could also be revoked.
ExxonMobil is due to begin operations at its Pacific oil-export terminal on October 4.
Shell in the meantime is protesting the injunction, saying the project fully complies with Russian and international environmental standards.
Russia And Global Energy Security
Russia And Global Energy Security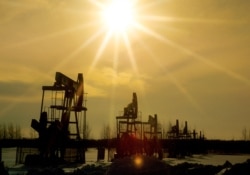 An oil field in Russia's Republic of Bashkortostan (TASS file photo)


ENERGY SECURITY is increasingly moving to the top of the EU's agenda in its dealings the outside world. A recent report identifies the European Union's main energy objectives as not just securing gas and oil deliveries from Russia, but also ensuring that it has reliable alternative sources, including in Central Asia. Nonetheless, EU officials say relations with Russia take center-stage in their thinking....(more)
RELATED ARTICLES
EU Maintains Codependent Energy Relationship With Russia
Turkmenistan: The Achilles' Heel Of European Energy Security
U.S. Official Urges Reforms In Energy-Producing Countries
ARCHIVE
A
complete archive
of RFE/RL's coverage of energy issues in the Caspian Sea region and Russia.