Russia Revokes Approval For Shell Project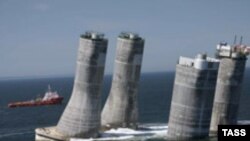 The base of an oil-and-gas platform being pulled into position off Sakhalin in July 2005 (ITAR-TASS) PRAGUE, September 18, 2006 (RFE/RL) -- The Russian Natural Resources Ministry today announced that it has revoked environmental approval for a Shell-led liquefied natural gas project on the island of Sakhalin, in the Russian Far East.
The announcement came after prosecutors alleged that permission to develop the second phase of the $20 billion project had been granted illegally.
Sakhalin Energy, a consortium led by Royal Dutch Shell, had already halted some pipeline construction work in August after complaints by the Natural Resources Ministry that it posed a risk of mudslides.
Earlier in the day, the Interfax news agency quoted Sergei Fyodorov, the policy director at the ministry, as saying that Russia might cancel the licenses of three foreign companies with production-sharing agreements to develop oil and gas fields.
He said the three -- ExxonMobil, Shell, and Total -- are failing to fulfill their obligations.